You've already uploaded some photos. Do you want to delete these photos?
Proceed
Anupriya Bedi
Apr 12 2014
Where can I find best street food in the world?
1

person

found this answer useful

Useful ?

Yes
The best street foods in the world are just not about the food, they are as much about the culture! When one stands on the street and order a local favourite, apart from the taste one also soaks in the local vibe and culture of the city.


Hot Dogs in New York City

New York's favourite street food is now a world favourite too. It is quick and comforting. A soft hot dog bun with a frankfurter, smeared with the classic mustard, ketchup and relish combination or more experimental ones with mac n cheese or kimchi, this city has the best version of all of them.

Photo of a Hotdog (by dinnercraft)

Fish and Chips in London

Some fried to perfection, crispy yet flaky cod fish with crisp chips with a tangy tartar sauce and a squeeze of lemon is a perfect meal and you would find plenty of it on the London streets.



Photo of Fish and Chips (by Robin Miller)


Satay in Indonesia

Whether you like Beef, Pork or Chicken, just pick your favourite and enjoy this juicy, delicious treat skewered on bamboo or wooden sticks. Totally apt and quick for a street meal and a favourite in Indonesia.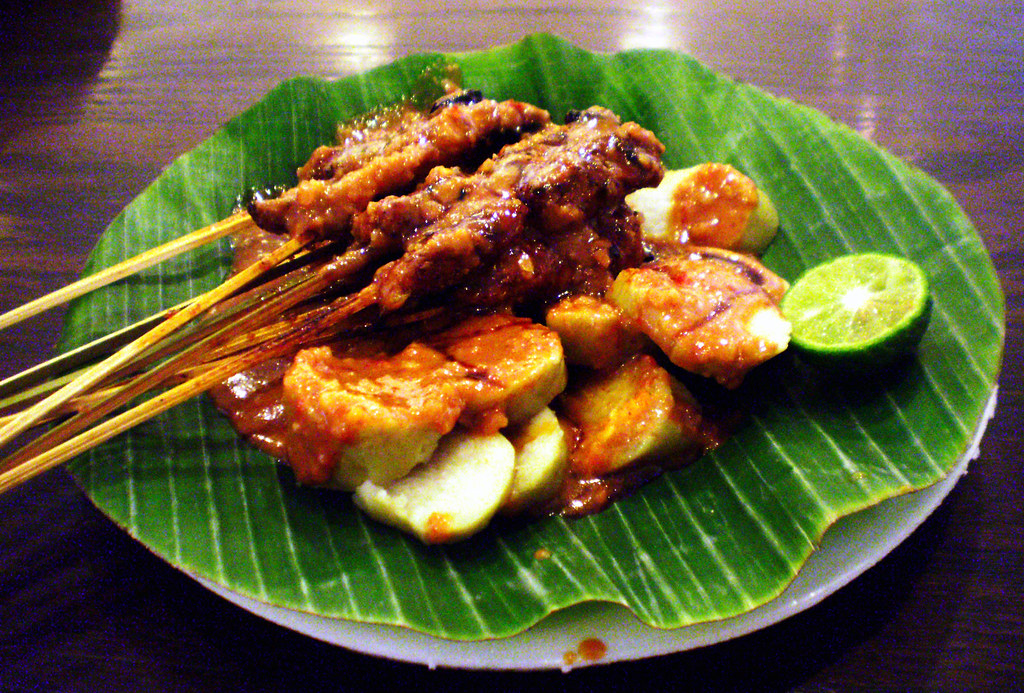 Photo of Satay (by Alwita)

Laksa in Malaysia

Laksa is a result of a perfect blend of spices with the very gentle coconut milk mixed with vegetables, meat of choice and noodles. It is one of the popular dishes in Malaysia and a meal by itself.



Photo of Laksa (by avlxyz)

Pad Thai in Bangkok

A mix of flavours and textures, Pad Thai in Bangkok is a must try. You would find hawkers all over the city rustling up delicious, piping hot noodles. Wrapped in a fried egg, and made usually with chicken and shrimps, these rice noodles garnished with toasted peanuts and chilli flakes are heavenly.



Photo of Pad Thai (by Takeaway)

Shawarma in Dubai

This delectable sandwich made with pita bread has either beef, mutton or chicken along with some lettuce, onions, pickles and a drizzle of Tahini sauce. You would see street shops all over Dubai selling this amazing wrap.



Photo of Shawarma (by Vera Yu and David Li )


Waffles in Belgium

Apart from fries (which come loaded with interesting toppings), Waffles are the most popular in Belgium! They come loaded simply with maple syrup and butter or whipped cream, fresh fruits, chocolate sauce or nutella.



Photo of Waffles (by Parkerman & Christie)

Tacos in Mexico

Though available with endless options for filling, crispy Fish tacos in Mexico are a must try. Topped with some Guacamole, Salsa and Sour Cream they are just delicious!



Photo of Tacos (by jeffreyw)

Banh Mi in Vietnam

Banh Mi is undoubtedly Vietnam's most famous sandwich. This amazing sandwich is made in a toasted baguette, filled with a choice of meat, usually braised beef or pulled pork, topped with cucumber, pickled carrots, pickled daikon radish, cilantro, holy basil and crispy shallots. It is often topped with a tangy sauce.



Photo of Banh Mi (by nsaum75)

Vada Pav in Mumbai

Vada Pav is Mumbai's favourite street food! A soft bun, filled with a vada that is crisp from outside and fluffy from inside, slathered with a spicy garlic chutney, this is India's very own burger. Just perfect for a quick and affordable meal on the go. It is definitely one of the best street food in the world and not just India.



Photo of Vada Pav (by Mohaneesh Thapar)

Crepes in Paris

A very thin pancake that can be filled with a variety of fillings, from whipped cream to nutella, is a favourite in Paris. Crepes can be had anytime of the day and can be either savoury or sweet.



Photo of Crepe (by Jainine)

Dumplings in Shanghai, China

Dumplings come in an assortment of shapes, textures and fillings in China. A piping hot steamed perfection is often accompanied with a dipping sauce, usually of chilly and garlic and topped with sesame oil for that extra nutty taste.



Photo of Dumplings (by Stewart Butterfield )


Ceviche in Peru

There is no way better than a Ceviche to savour fresh seafood. And Peru has abundance of that. Fresh fish, cured with generous amounts of lemon and seasoned with herbs and just a little chilli results in a perfect Ceviche. Just bite into it with some crisp corn chips and be ready for the perfect taste of the sea.



Photo of Ceviche (by Karol m )

Chicken Rice in Singapore

A signature dish at Singapore's innumerable hawker stalls. Steamed, braised or stir fried chicken tossed with some garlic infused rice and topped usually with Bok Choy is an ultimate comfort food.



Photo of Chicken Rice (by Banej)

Gelato in Italy

Gelatos are a decadent and really there is no apt time to have them. They are perfect at any point of the day. The streets of Italy serve them in their most creamy form in a huge variety of flavours. The classic vanilla and hazelnut are the most popular flavour options.



Photo of Gelato (by Ragesoss)

Almost every city has its own street favourites which are no less than gourmet food. The street food is definitely affordable but never compromised on the flavours and taste, so go ahead and indulge in the best street foods in the world.

Help us rate places you know

Food & Places To Visit