You've already uploaded some photos. Do you want to delete these photos?
Proceed
Anupriya Bedi
Jun 02 2014
Top 10 Travel Hacks in the Wild
Debangana Sen
Jun 02 2014
4

people

found this answer useful

Useful ?

Yes
Here is a list of the top 10 camping hacks that'll make your trip to the wild less cumbersome and more fun. Many of these hacks make for great survival-in-the-wild tips as well, which might come in handy if you find yourself in a tough spot.

1. Making fire without matchsticks
Fire is probably the primary necessity when it comes to camping trips. It cooks your food, keeps you warm in the night and safe from other predators. So how do you make a fire when you have used up/ forgotten your matchsticks and kindling?
Method 1
Touching a piece of steel wool to the positive terminal of a battery starts a fire. Make sure you have some kindling ready on the side on the side to catch the fire.
Tip: Birch barks, thistle, pine cones and needles make excellent natural kindling. Cotton balls coated with Vaseline work just as well.
Photo by Chenspec
Method 2
If you don't have steel wool, a thin strip of aluminium foil from your Wrigley's chewing gum wrapper (or any aluminium foil) will do the trick. Just place the ends of the strip to the two terminal ends of a battery. The foil gets incredibly hot, so make sure you don't handle it with bare hands. Place the kindling close to the centre of the strip and give it about 10-15 seconds.
2. Fashion an oil lamp out of an orange
This is a cool trick. Cut the orange skin (not the flesh) in half and gently peel it off, so that it comes out with the thin fibrous core. You should have a bowl-like structure with a wick in the centre. Drizzle oil on top of the wick (make sure it is properly drenched) and fill the orange bowl half-way. Use it as a candle. Vaseline can also be used as a substitute for oil. It should burn for upto 6-9 hours.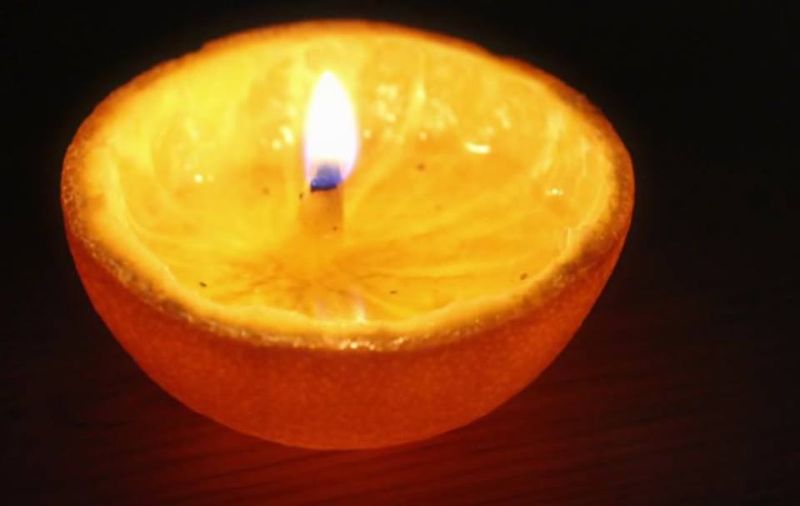 Photo by HooplaKidzLab

3. Make a DIY compass
Take a needle (hairpin, paper clips, iron nail or safety pin will work as well). In case you don't have a magnet with you, magnetize your needle by rubbing it against your shirt or your hair. Never rub back and forth, but in a single direction. After about 50-60 strokes, your needle will be magnetized. Place it on a leaf and drop it in a bowl of water. It will always point in the north-south direction provided there is no wind interference. This makes for a great
camping hack
in case you've lost your way and don't posses a compass.
Photo by How Stuff Works

4. Use a torch with just 1 battery
Again the foil comes in handy. Make a rough roll of foil that has a similar height compared to your battery. Drop it in your torch, followed by the battery on top and close the cap. Your torch should work now.

5. Make lanterns out of water bottles
You will need a cell phone or a flashlight and a bottle or jug filled with water. Strap the phone/flashlight to the bottle in such a way that it faces it. You'd be surprised how much brighter the light gets.
6. Control temperature with foils
Aluminium foil can be a better and cheaper substitute for space blankets. Though not as reflective, they still do a good job of reflecting heat and light. Placing a sheet of foil as a screen behind your fire reflects back the heat and keeps your warmer during the night. Similarly, using it as a reflective shield against the sun keeps you much cooler in hotter climes.
7. Natural insect repellants

Rubbing onions, garlic, fresh orange or lemon peel on your skin repels biting insects like mosquitoes and bugs. Alternatively, you can place a living green branch (preferably spruce or pine) of a tree on a burning fire to create a thick line of smoke. This also doubles up as a good signal fire during the day.
Photo by Ottawa Valley Dog Whisperer

8. Pack lighter
Don't weigh yourself down with too many warm clothes if you plan to camp in a cooler environment. Stuffing your bedding and clothes with dried leaves acts as a good insulator.

9. Filter water
In dire circumstances, where you find yourself short of drinking water, you can try these two filtering methods.
Method 1
Take two containers and keep them side-by-side. Fill one with dirty water. Take a clean cloth or a sock. Dip one end into the dirty water and the other into the empty container. After a while, the empty container will fill up with clear water. To get rid of pathogens, drop 1-2 water purifying tablets before drinking it.
Method 2
Use a thin piece of clean cloth (a stocking would do). Add a layer of powdered charcoal (from burnt wood), top it with a layer of sand and put a layer of grass on top. Cover this with another piece of cloth. Place this setup on an empty container and pour water slowly on this structured filter. The filtered water will be good enough to drink.
10. The all-natural toothpaste
Charcoal also acts as a very good toothpaste substitute. Mix some ground charcoal with water to make a paste and rub it on your teeth. It is coarse enough to clean your teeth but not too coarse to damage them. Also, it is a good teeth whitener. Win-win!
So these were our top 10
camping hacks
that will definitely come in handy on your next outdoor trip. Tell us more hacks if you know any and share these with your friends. Don't forget to like and comment. Happy camping!
Help us rate places you know

Food & Places To Visit