You've already uploaded some photos. Do you want to delete these photos?
Proceed
Debangana Sen
Jun 12 2014
Tips to get your car ready for a driving holiday
1

person

found this answer useful

Useful ?

Yes
A driving holiday is exciting alright--unless your plans come to a grinding halt, with your car stuck in the middle of nowhere. But, with a little planning, many problems can be avoided. Here are some handy tips for a driving holiday. New cars are usually so reliable that we forget that they are machines that can sometimes break down. So here is a ready reckoner of the things to be done before setting off on a driving holiday.

Photo of a driving holiday (by wwarby)

Get your car properly serviced

Get your car serviced a week before you leave for a driving holiday even if routine servicing is not due, so that you have enough time to figure out if everything is working out fine. If your car has covered much less than your recommended oil-change period of, say 10,000 km, you can avoid the lube and filter change. But get an underbody wash and check-up of wheel alignment, suspension, brakes, steering, lights, batteries, starters, fan belts, AC, wipers and coolant. Recheck, that these have been done properly. Carry light bulbs, fuses and an extra tube if you have tubeless tyres.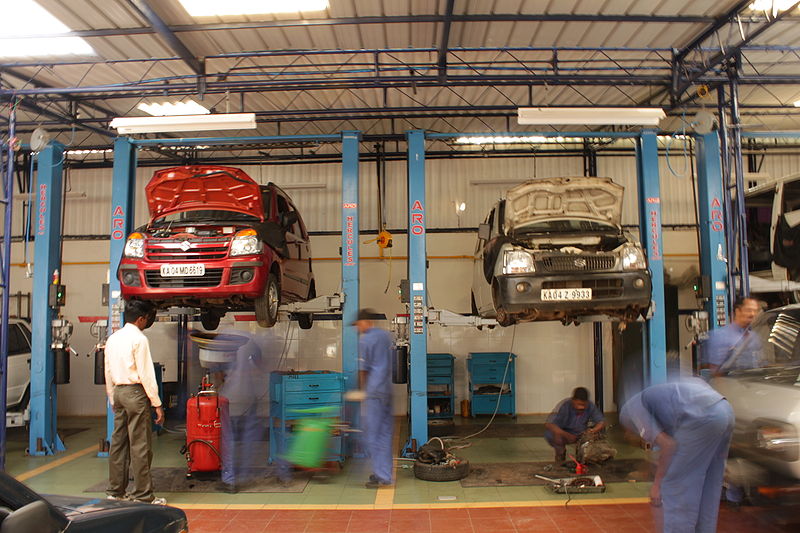 Photo of a service station (by Mouleesha)

Carefully check your papers

Ensure that your driving licence, car registration, insurance papers and "pollution under control" certificate are up-to-date. Keep a copy in your baggage. Without valid papers, you'll find yourself in a soup even in the case of a small accident. If you are hiring a driver, ensure your driver has a genuine driving licence.


Engine efficiency is important

The multi-point fuel injection of your car's engine is usually reliable and efficient but then, it's also a bundle of microchips and sensors that can't be fixed by a hammer or a screwdriver. It has to be repaired by trained mechanics using special diagnostic tools. If your battery or starter fails, it's difficult to push and start unless the engine is warm. So keep your car company's helpline number handy to find the nearest dealer to come to your rescue.



Photo of a car engine (by atzerok)


Don't take the car's lights for granted

Recheck the headlights at night to ensure that the left beam points straight ahead while the right beam points a little lower and to the left so as not to blind oncoming traffic. Halogen or Xenon bulbs are much brighter but a rusty or dirty reflector or lens will reduce the brightness. Most modern cars have a small wheel on the dashboard to adjust the beam's height. Learn to use this because when your car is not carrying much weight, the rear sits higher while the headlight beam becomes low. It becomes high when the car is heavy. Good lighting makes night driving safer. If your journey entails night driving, or there's a chance of fog, fit fog lights. And be considerate towards oncoming traffic while using them.

Photo of a car with fog lights on (by OregonDOT)

Horn OK please!

Check your horn and the distance it's sound travels. On our roads, the horn is a necessity and though you don't need to overuse it, it needs to be sharp and loud.

Photo of a truck (by kholkute)

Check car parts

You cannot afford to ignore the rattles and squeaks in the doors, bonnets and bumpers. The rattling of loose parts may not ground the car but can be irritating. The car's suspension should also be in good shape. Rough patches test the car's suspension system and it needs to be able to handle the sudden surprises the road will hold. If you're going to drive on broken roads or dirt tracks, then get a sump and fuel tank guard fitted under your car.

Put your best tyre forward

Punctures are the most frequent problem on any journey, so put your best tyres on the front wheels, which take the most punishment from cornering, braking and acceleration. Most new cars have tubeless tyres and these are usually better because they are smoother and less prone to punctures. Air may slowly leak out but they will seldom collapse, as with a tubed tyre. Most puncture repair shops can now fix punctures on tubeless tyres but you should carry an extra tube as all roadside mechanics may not be equally competent. Small, tubeless tyre repair kits are now available at most tyre shops.

Photo of front tyre of a car (by mroach)


Correct tyre pressure is essential for happy motoring

If your tyres are over-inflated, they will tend to skid while cornering. Under-inflation however will result in higher fuel consumption. Read the recommended air pressures in your car manual, both for light and heavy loads. The air gauges at many fuel pumps are not accurate, especially in small towns. If you're doubtful about the accuracy of an air-gauge check, go by the pressure of any tyre that looks alright and match the others accordingly. Remember that new tubeless radial tyres are supposed to look slightly flat when the car is standing still, though they make a perfect circle when the car is moving. And check the air in the spare tyre too.

Photo of tire pressure gauge (by USAF)

Polish your toolkit

Check that your jack and wheel-spanner are working and keep screwdrivers spanners and pliers handy. Carry a large plastic bottle of water, a plastic sheet and a few pieces of cloth. They also come in useful if you have to change tyres. Of course, you have to familiarize yourself with changing tyres in the first place. Add a jerry can for petrol and a slim, plastic pipe to transfer the fuel, just in case.

Photo of a toolkit (by Per Erik Strandberg)

These tips for a driving holiday will save you from a lot of trouble which you might not foresee. Make sure you check all of these before setting off for the best road trips in India.
Help us rate places you know

Food & Places To Visit