You've already uploaded some photos. Do you want to delete these photos?
Proceed
Which are the various events and festivals happening in May?
0

people

found this answer useful

Useful ?

Yes
Discover the best events and festivals happening in May as this is the time when a fascinating array of exciting events and colourful festivals happen. So here's a list to help plan your trip this May :-

Bluff oyster and food fest

If you are a foodie, then this amazing festival is for you. Come May and Bluff at the southernmost point of the South Island prepares itself for a special festival to celebrate the seasonal harvest. Oysters is the star of this festival, other local specialities are also on offer including sought-after Mutton birds, wild foods and a variety of fresh seafood. Friendly locals and live music add to the beauty of the fest. Bluff Oysters are among the tastiest in the world and if you haven't tasted them, then you should definitely be here.



Photo of Oyster dish (by - DJC1970)

Date :May 24th, 2014
Location: Bluff, New Zealand

Mt. Abu Summer Festival

The state of Rajasthan welcomes you from the depth of their heart for its colourful festive which is held every year during the month of May on Budh Purnima. The festival celebrates the warmth and cheerfulness of the people of this quaint hill station. Artists from Gujarat, Punjab and Haryana, as well as Rajasthan itself showcase their stunning and graceful talent making the festival a feast of folk and classical music. Other attractions include kite-flying, hot air ballooning, cricket, gilli danda and poetry reading. Check out other things to do in Mount Abu to make your trip all the more exciting.



Photo of Rajasthani Folk Artist (by Rajkumar1220)

Date : May 12th- 14th, 2014
Location : Mount Abu, Rajasthan


Cannes Film Festival

Indulge your love of films at Cannes Film Festival, celebrate the glamour of the film industry, the stars, the parties and the craze that goes along it. Actors are discovered, films are financed and careers are made here, the art and excellence of new world cinema is showcased. Every evening during the film festival on the Plage Mace there is a free open air cinema showing classic films - just turn up and grab a deckchair!




Photo of Cannes Film Festival (by tangi_bertin)

Date : May 14th - 25th, 2014
Location : Cannes, France


Festival of Kentucky Derby

Come and witness nation's largest annual fireworks event and one of the top five air shows of United States. Louisville's Derby Festival is all about community celebrations. It brings fun, excitement, international recognition and a spirit that is unmatched anywhere when 1.5 million people gather to celebrate spring. There a lot for everyone - for sports fans there is basketball, volleyball and golf, for music lovers the concerts are almost non-stop. With two-thirds of the Festival events free, families can enjoy numerous just-for-kids activities. Other activities include a half and full marathon, hot-air balloon events, live bed racing and many more.



Photo of Festival of Kentucky Derby (by 7263255)

Date : April 12th - May 2th, 2014
Location : Louisville, Kentucky, United States


Moatsu Festival

Celebrated by the Ao people of Nagaland, Moatsu festival marks the end of harvest season, people cleanse their homes and wells, repair and construct houses and after completion of these manifold activities, the celebration of the Maotsu festival takes place. The festival is cherished with much rejoicing, dancing and singing. It is a wonderful place for tourists to get an insight to the life and culture of the north-eastern celebrations, for more information check out Nagaland travel
guide.




Photo of Sumi dancers of Nagaland (by Yarzaryeni)

Date : first week of May 2014
Location : Chuchiyimlang Village, Nagaland


Prague Spring International Music Festival

Here's something for those who love Music, one of the most prestigious European classical music festivals - The Prague Spring International Music Festival, which showcases outstanding performances of various artists, symphony orchestras and chamber music ensembles of the world. A recent addition to this list is the inclusion of jazz music festival. It resembles the world music culture and its newest tendencies. The Festival also provides opportunities for young performers to showcase their talent in various instruments.
Photo of The Municipal Hall (Smetana Hall) (by - Jialiang Gao)

Date : May 10th to June 1st, 2014
Location : Prague, Czech Republic


Festival of the Snakes

One of the strangest festivals of the whole world, The festival of Snakes sounds scary, but Italy does celebrate it. The festival is known to be a mix of Pagan and Catholic ritual celebrated to venerate St. Domenic, where his statue is carried on the streets adorned with live snakes and not one of the snakes should fall from the statue or else it will cause bad luck. The festival is famous among snake lovers and if you would like to experience, then you should definitely head towards Italy this May.



Photo of a snake (by Jean-Marc ROSIER)

Date : May 01, 2014
Location : Cocullo, Italy

The Hay Festival of Literature & Arts

Bringing together writers from around the world to debate and share stories, this classy festival is a must visit for all the those who love to read. The festival celebrates great writing from poets and scientists, lyricists and comedians, novelists and environmentalists. Musical performances and film previews has been included in recent years as a part of this amazing list. Come and be inspired at this amazing festival.
Photo of The Hay Festival of Literature & Arts (By Official Website)

Date : May 22nd - June 1st, 2014
Location : Wales

Cooper's Hill Cheese Rolling

Have you even seen a cheese rolling down the hill ? If not, then here's your chance to witness the Cooper's Hill Cheese Rolling event where a 9 lb round of Double Gloucester cheese is rolled down the Cooper Hill and competitors race down the hill after it, the first person over the finish line at the bottom of the hill wins the cheese. People from all over the world take part in this traditional event. You can also participate but be sure to stay on your feet as the hill is so steep that many contenders tumble head-over-heels down the hill in desperate efforts to catch the coveted dairy prize.



Photo of Cooper's Hill Cheese Rolling event (by Dave Farrance)

Date : May 26th, 2014
Location : Gloucestershire, England


Banganga Fair

Held annually on the full moon day of Vaishakh near the beautiful stream from the historical township Bairath in Jaipur district. The stream is believed to have been created by Arjuna, one of the brothers of the Pandavas. Taking a holy bath in this stream is said to be auspicious and cleanses one's soul, many devotees come here from different places to take part in this ceremony. During the fair, the village comes alive with traders selling their wares, locals buying and exchanging gifts, giant wheels and merry-go-rounds are among the major attractions of the fare. Check out Jaipur Travel Guide to known more this place.



Photo of Rajasthani Folk dance (by Koshy K)

Date : May 14th, 2014
Location : Bairath, Jaipur, Rajasthan


The Escape Festival, Naukuchiatal

The hills are alive with the sound of music, and what better venue than the picturesque Naukuchiatal in the lake district of Kumaon. Bands young and old and their groupies camp at The Lake Resort by the placid waters of the lake every May (24-26 in 2013) for the annual The Escape Festival.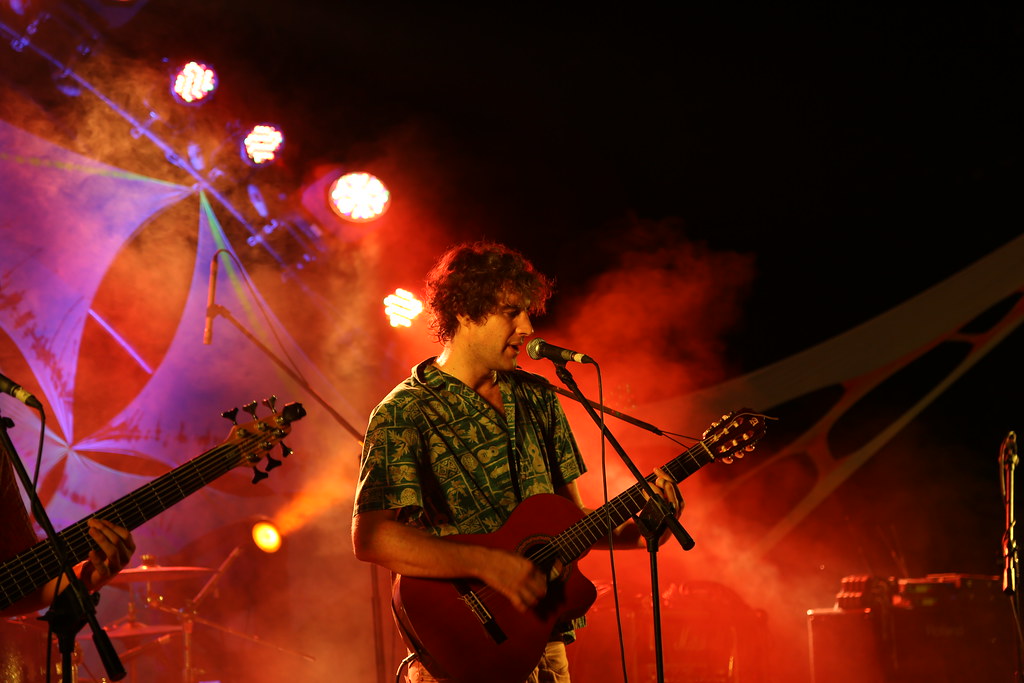 Photo of a rock concert (by Supriyo Das)

Date: 24th-26th May
Location: Naukuchiatal, Uttarakhand


Dharamshala Film festival

Be a part of this delightful cinematic feast which showcases the best of recent Indian and world cinema, including fiction, documentaries and shorts. You must surely visit this event if you are a movie freak! For more information, check out Dharamshala Film Festival.

Photo of Dharamshala International Film Festival (by Official Facebook Website)

Date: 13th May-15th May, 2014
Location: Tibetan Institute of Performing Arts (TIPA), Upper Dharamshala, District Kangra, Himachal Pradesh, India.

There is something special about all these events and festivals in May that make it a unique experience worth visiting. So choose your destination and get ready to enjoy to the fullest. Happy Vacation!
Help us rate places you know

Food & Places To Visit