* price includes taxes and fees
#1 of 2 Hotels in Yamnotri
Yamunotri Road Near Dobata, Distt. Uttarkashi,
The Char Dham Camp is the most innovative and much required venture in the spiritual tourism industry. Besides this, it caters to a wide number people who set out for the Yatra. These camps offer comfortable accommodation with comfortable bed, linen and study table and an attached bathroom.LocationThe Char Dham Camp is located at Barkot, about 40 kilometres from Dharasu and en route to Yamunotri.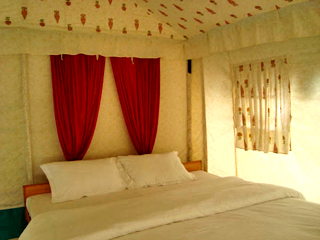 #2 of 2 Hotels in Yamnotri
Gangani, Barkot Yamuntori Highway, District Uttarkashi,
LocationLocated on the bank of the River Yamuna, Camp Nirvana is set up just 8 km away from Barkot.A new tented accommodation offering on the Char Dham route, Camp Nirvana offers all essential conveniences required for a comfortable stay.RoomsCamp Nirvana offers comfortable accommodation in spacious Luxury Tents that have attached washrooms with running hot and cold water facility. Guests can enjoy a splendid view of the river and surrounding mountains from each tent. For the convenience of guests, morning bed tea is also served.Dining & FacilitiesThe multi cuisine restaurant at Camp Nirvana serves delectable fare. Tea is available throughout the day at the restaurant. Barbeque and bonfire evenings are also organised on request.At Camp Nirvana, guests can attend the religious 'aarti' everyday and visit the much revered Gagnani Temple and Kund close by. Facilities are available for badminton, air gun shooting, volleyball and cricket. For adventure enthusiasts, Camp Nirvana provides assistance in organising activities like rappelling, Burma bridge, angling, trekking and rock climbing.
Sorry, no matching hotel found in your selected category.
Please reset your filters.
OR


Go to map view to find near by hotels

view on map
show more