more
Account
Bookings
ixigo money
Alerts
Travellers
Logout
4/5 - Good
(32 reviews)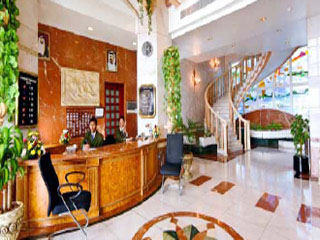 Review and Rating of Landmark Suites Hotel
#12 of 26 hotels in Ajman (32 reviews)
powered by
WRITE A REVIEW
I like that hotel
by Sherif A on 06 Nov 2013
I like that hotel, and will be my preferred hotel to stay whenever I visit Ajman, specially Sea view suites Also, my family has enjoyed there and they are requesting to repeat the visit and to stay in landmark hotel and in the same suite Many thanks for landmark staff for the greatfull hospitality and for the professional service
Excellent experience with business class service
by rahul_chavda on 03 Oct 2013 (Business Traveller)
I loved balcony that looked out to the Ajman cornich. The tiling was nice and we loved the old world charm. The staff was very pleasant. What we did not like was the smell we had in our room. I think the carpet should be replaced maybe with tile or try cleaning the old carpet. The atmosphere is good, staff very friendly, serverice could'nt not ask for anything better and the managers that run the entire hotel were just excellent. i will recommend thius hotel to anyone
Great location......
by Politiri on 23 Jan 2013 (Business Traveller)
Love the hotel - service is exceptional, food is above average, rooms are large and clean. ONE ISSUE, dont go there on a NATIONAL HOLIDAY, the traffic on the Corniche is so loud you cant sleep - alternative is to join in the party. Right on the water, clean but limited facilities, pool is small but again, you are right on the gulf. Too bad they dont have their own private beach area rather that the public beach.
Excellent stay with beach view
by Rahul C on 19 Jan 2013 (Business Traveller)
I have stayed at this hotel for 5days and completely satisfied with the services and location of the hotel. I prefer to stay again with the same hotel in my future trips also. Rooms were clean and luxurious interiors. Hotel is having very good location and beach view balcony is wonderful experience. Showing some signs of age but for the price and size of the rooms, it is great. Right on the Corniche, north of Dubai and Sharjah, it is a little more serene, except at nighttime when the traffic on ...
Read More
One of the best hotels in Ajman!
by walkingtheearth on 22 Jun 2012 (Business Traveller)
Finding a decent hotel in a great safe location is certainly a challenge in Ajman, the quality of hotels in this city vary significantly even if located near each other and you really don't want to end up in the wrong side of town, thankfully Landmark suites solved our problems. The hotel is conveniently located near to the Sharjah border, directly on the Ajman beach and close to the main road the leads you to downtown Ajman. The building is old and its age is definitely showing. Parking was a...
Read More
READ ALL REVIEWS
Hotel Location
Address
Corniche Road
`Ajman, Ajman, United Arab Emirates
About Landmark Suites Hotel
CHECK IN 2:00 PM
CHECK OUT 12:00 PM
Amenities
Amenities information not available.