You've already uploaded some photos. Do you want to delete these photos?
Proceed
Suggest a 5 day tour itinerary for Wayanad.
1

person

found this answer useful

Useful ?

Yes
Evergreen forests and tea plantations wrapped in rising mists, shimmering in practically every shade of green, blue and brown that engulf your senses only to calm them a moment later- welcome to Wayanad, where nature still has her roots deeply set in.

Wayanad being a district is a bit spread out, with many of its attractions concentrated in different pockets. It would be ideal to stay in one part, explore it and the surrounding regions and then move your base to the next major stop over zone. Sulthan Bathery, Kalpetta, Mananthavady and to some extent Vythiri are its major zones to consider while planning out your trip to Wayanad.
Given below is a 5 day itinerary for Wayanad that you can use while planning out your own-
Day 1
Pepper Grove run by the Karnataka tourism department is a good stay option in Sulthan Bathery. From here you can explore one pocket of Wayanad before heading off to another. With jungles changing colours and tea plantations giving way to dense evergreen forest canopies enraptured in rising mist and fragrance, Wayanad is a biodiversity hotspot and is home to some endangered, exotic species.
So pack up your camera and binoculars and head straight to Wayanad Wildlife Sanctuary lying within Nilgiri Biosphere Reserve and holding on steadfastly to its primal wilderness. Acting as a buffer to the Nagarhole National Park, Mudumalai Wildlife Sanctuary and Bandipur Tiger Reserve, particularly during the dry spells when a number of wild Elephants camp out here, Wayanad Wildlife Sanctuary is considered as one of the bio-geographically richest parts of Southern India
Through thickets of deciduous, semi-deciduous and semi-evergreens trees, past streaming Kakkayam river, lies the Protected Area home to the Tiger, Sloth Bear, Deers and of course, the majestic Elephants and deadly King Cobra. There are a total of 44 different species of mammals and over a hundred different types of birds inhabit the Wayanad Wildlife Sanctuary, to say nothing of the wide variety of reptiles, fishes, amphibians, butterflies and dragonflies that reside within the forest.
There are two discontinuous pockets at the sanctuary and consequently two entrances. One is Muthanga, south of the sanctuary and other Tholpetty, north of the sanctuary. There is usually a very long queue for the tickets. Its advisable to reach before 6:30 to be able to get in time.
Know all about the sanctuary- entry fees, timings and other details at Wayanad Wildlife Sanctuary.


Photo of Wayanad (by Arun Punatathha)

Now that you have traversed the wild side of Wayanad take the fork in the road marking its memory lane and head over to Sulthan Bathery, erstwhile Sultan Battery and famous for being Tipu Sultan's armoury.
Out here be sure to visit the ancient Jain temple used by Tipu Sultan, 'Tiger of Mysore, as a battery back in 18th century. An ancient, holy town, Sultan Bathery is replete with a number of temples and churches. Stop at Jubilee restaurant, serving malabar cuisine, for lunch and/or evening snacking. Sulthan Bathery's exploration is bound to take rest of the day. Head back to the hotel for dinner.
Day 2
After a lazy, filling breakfast at the hotel head over to Ambalavayal where the ancient history of Wayanad will come alive right before your eyes. First stop is Wayanad Heritage Museum that brings together the entire story of Wayanad beginning in the Neolithic times to the 17th century under one large roof. Stone weapons, ancient hunting bows and arrows, clay sculptures, farming equipment dating back to different eras can be found in the Museum.
Know all about the museum- its entry fee, timings and other details at Wayanad Heritage Museum.
Next up are the Edakkal caves situated about 5 km away. Translating to 'stone in between' the name Edakkal more or less describes the caves, a site of immense historical and archaeological significance and etched with carvings that date back to the Neolithic era, the late Stone Age. There is an uphill trek of a kilometer to reach the caves.
On the way up there is a small chapel carved with stories from the Bible as well as a small stall selling coffee and snacks. The way inside the caves is past uneven rocks, an iron ladder and rock walls covered with moss and lichen.
Know all about the caves at Edakkal caves.
It will possibly take you 2-3 hours to explore the cave by when it will probably be lunch time. Simply make your way to Edakkal Hermitage, a resort but ideal for dining as well. Their in-house restaurant is set inside a natural cave and usually alight with candles, giving it a hauntingly romantic glow. In addition to its incredible ambience, the restaurant is a good choice for indulging in Malayali cuisine.

Another 5 km away is Thovarimala Ezhuthupara, a remote rocky shelter and a custodian of Wayanad's heritage for eons now. Situated at a height of 500 meters, Thovarimala Ezuthupara is a natural cave etched with petroglyphs that have been dated back to 1000 BC. With day drawing to an end head back to your hotel in Sulthan Bathery for dinner.
Day 3
Rise and shine for a full day of traversing the natural splendour of Wayanad in its full glory. Make way to Kuruvadweep 37 km away on Panamaram-Nadavayal-Beenachi road. A group of islets speckled and shrouded with evergreen forests, Kuruvadweep is where 'God's own country' will take on a whole new meaning. Flocks of all sorts of water and migratory birds welcome you out there. Filled with sounds of chattering birds, Kuruvadweep's serenity transports you to a more sublime, tranquil place within even as you make way past its heavily wooded, lush tangle of flora. Kuruvadweep opens up at 9:30AM and closes at around 4PM.
Next up is Wayanad's most popular and widely revered sacrosanct site- Thirunelli temple, 27 km away. Legends set in deep mysticism greet you at Thirunelli temple, an incredibly ancient temple in Kerala, possibly the creation of Lord Brahma. Visited by pilgrims from all over the country, particularly Southern India, river Papanasini is the sacred site for all the rituals. Presence of all three gods, Lord Shiva, Vishnu and Brahma, the trinity, gives the temple even more religious and spiritual pull.
Know all about the temple at Thirunelli temple.
Photo of Wayanad (by Nitin Pai)


Stop over at Tamarind hotel and/or Thirunelli Agraharam for an indulgent, delicious lunch and late evening dining.
With a 60 km drive back, head back to your hotel in Sulthan Bathery while there is still sunlight.
Day 4
Now the best way to explore the southern pocket of Wayanad is to move base to Vythiri or Kalpetta. At Vythiri, Vythiri resort is a good stay option while at Kalpetta Blue Ginger Wayanad resort and Coffee Aroma resort set in a coffee plantation are some of the good stay options.
After checking in, head out towards Pookode Lake 12 km away on NH 212/Kozhikode-Mysore-Kollegal highway. Luminescent like an eyris blue pearl, nestled at the foot of canopied hills, Pookode lake is the perfect place to simply immerse yourself in Wayanad's fragrant forests. You can indulge in kayaking and row boating at the lake. There's also an aquarium and handicrafts emporium to explore at Pookode lake.
Know all about the lake at Pookode lake.
Photo of Wayanad (by Subhashish Panigrahi)


After a spot of lunch, possibly by the lake, head out to Lakkidi, a breathtakingly luxuriant valley with gurgling streams and lofty peaks, about 4.6 km away. Out here do make it a point to stop by Thamarassery ghat road and be swept away by the incredibly magnificent view. Be sure to visit the legendary Chain tree where the spirit of Karinthandan lies chained and ask locals for the sinister story behind the tree. You can stop at any one of the roadside small eateries for lunch and tea/coffee.
Culminate your day with a trek up Chembra peak situated 10.4 km away on Kozhikode- Vythiri-Gudalur highway/SH 29. Wayanad's highest peak, Chembra is actually a part of Western Ghats with the Nilgiris as its neighbor.
Shrouded in mist with a beauty that is heart-achingly splendorous, you will need permission from the forest office to trek Chembra peak. Once you have been issued a pass and all geared up, make your way past its green carpeted and canopied tangle. Keep a lookout for the heart-shaped lake that marks halfway. Atop the peak you have a glorious view of Wayanad, Malappuram, Nilgiris and Kozhikode sprawling all around you.
Be sure to keep a track of time as you have a bit of drive back to the hotel. Dinner at the hotel and turn in early as you have full day of hiking through Wayanad's forested landscape.
Day 5
After breakfast head over to Kanthanpara waterfalls. Set amidst bamboo forests, sublimely beautiful and glorious, Kanthanpara waterfalls are the perfect start to your last day in Wayanad.
Next, make your way to Meppadi from where some of Kerala's most glorious waterfalls are situated. Soochipara waterfalls, some 14 km away, is one such. The rocks down which the waterfalls cascade offer incredible views of tea plantations sprawling around and its one cliff side is ideal for rock climbing. Central shop and Hotel Welcome Meppadi are some good places for lunching in Meppadi.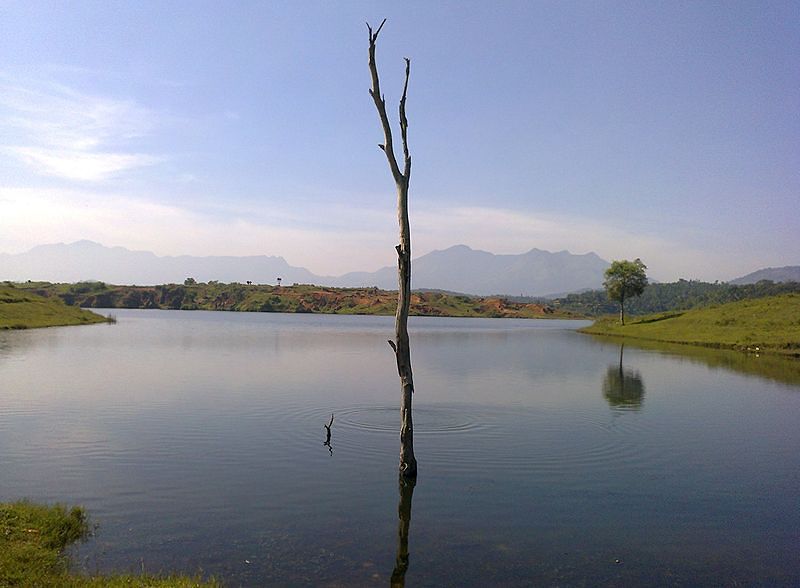 Photo of Wayanad (by Lavenderguy)


Next, back up a bit and head on SH 29 towards Meenmutty waterfalls. Glorious and magnificent, Meenmutty waterfalls are three-tiers of sheer cascading beauty. Situated deep within a lush jungle that is a heady mix of deciduous and evergreen forests, the way to the falls is a thrilling trek.
With the day and with it your trip drawing to a close head back to the hotel for dinner and one last late night walk through the shimmering, forested lanes of Wayanad.
Kerala Tour Packager
Dec 03 2014
0

people

found this answer useful

Useful ?

Yes
MORE QUESTIONS ABOUT
Wayanad
most popular
|
most recent
|
most relevant
|
unanswered questions
Help us rate places you know

Food & Places To Visit