You've already uploaded some photos. Do you want to delete these photos?
Proceed
Which are some of the most unique festivals around the world?
Kshitiz Ahuja
Jul 27 2013
1

person

found this answer useful

Useful ?

Yes
We celebrate a lot of festivals, a lot! But have you ever wondered which are the most unique festivals that are celebrated around the world? We are sure that you are nodding your head in approval and that's the reason why you should read on.


The wife carrying World Championship


One of the wackiest festivals ever invented, Wife Carrying World Championships have been held annually in July in Sonkajärvi (Finland) since 1992 . This championship is a relay race in which participants are meant to carry their wives as they run across a land and water obstacle course. The sole motivation is that the winner receives his wife's weight in beer! So obviously, this festival is becoming more popular each year!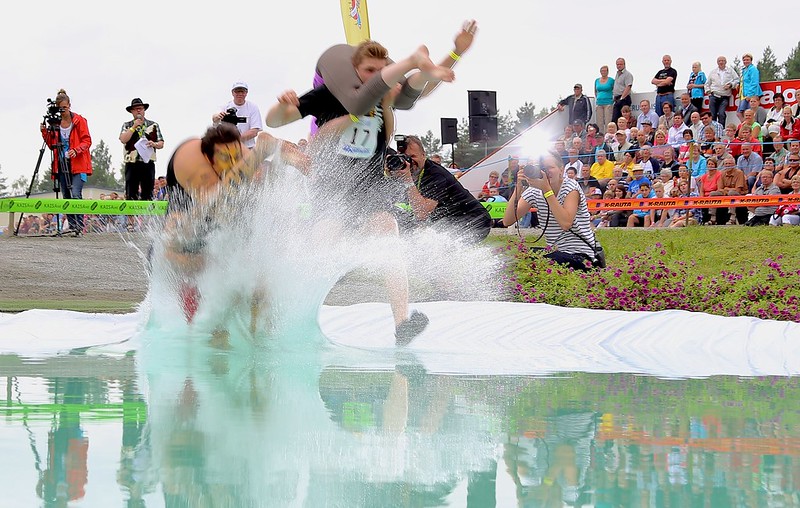 Photo of Wife Carrying Championships (by Visitlakeland)



Despite it's humorous aspect, this festival has it's roots in history. In the late 1800s, a brigand called Rosvo-Ronkainen was staying in the area. He allegedly only accepted men who proved their abilities by carrying their women across a challenging track. The festival is also supposed to strengthen the relationship between a man and his wife.
Certain rules are set by the authorities, including the minimum age and weight of the wife, the length of the track and the penalties if the wife is dropped. However, most importantly, participants must all enjoy themselves!
So for wives who like to throw their weight around, this festival is the perfect time to do so!

England's Cheese Rolling Festival


Each year, at the end of May, thousands of people from all over the world gather atop a steep hill near Gloucester (England)-to run after a wheel of cheese!
Don't bother reading that sentence again- you read it correctly. Participants run after a thick eight-pound wheel of Double Gloucester as it rolls down Cooper's Hill at a speed of 70mph.
It's a crazy sight: watching thousands of people running after a massive round of cheese! Needless to say, there are several injuries each year-sprained ankles, broken bones, concussions and of course, the injuries of those who trip and roll down to the bottom of the hill!



Photo of England's Cheese Rolling Festival (by ninjawil)


The winner is the person who is the first to catch the round of cheese. He or she is awarded with the opportunity to eat as much of the Double Gloucester cheese wheel (or what's left of it!) as possible!
The historical origin of this festival is that it was said to be a fertility rite to encourage the fruits of harvest. The rolling ball of cheese was also used to mark the grazing territory of each shepherd, according to historians.
Its definitely one of the 'cheesiest' festivals in the world!

Crying Baby Festival


We're all usually hoping that the toddlers don't start bawling out of the blue. Remember how annoying it is when children start sobbing in the theatre, on an aircraft or at the table next to your's?
However, there comes a time in Japan, when people are hoping that the babies in their hand cry as quickly and as loudly as they possibly can! Sounds cruel. right? But it's actually a tradition in Japan, dating back to more than four centuries!




Photo of Baby Crying Festival (by J. Salmoral)


On this day, mothers bring their babies to be blessed by monks at the Sensō-ji Temple in Tokyo. After this, hefty sumo wrestlers pick the babies up and begin to growl, bark or sneer to scare them into crying. This gives the babies a chance to test their newly formed vocal chords. Interestingly, 'crying babies grow fast' according to Japanese tradition. The baby that cries first 'wins', though in the event of a tie the prize goes to the baby with the loudest wail.
Here's a festival where everybody wants a 'cry-baby!'

Monkey Buffet Festival


Most of us have had an experience when a monkey came and snatched a packet of chips or a banana from our hands. That's bad enough, right?
Imagine actually setting up a feast of 4000 kilograms of food :meats, fruits and vegetables in fancy dishes, for monkeys! Of course, they top it up with a few swigs from a Coke Can each!
Held annually on 25th November in Thailand, this festival is a feast for over 2000 monkeys. The locals believe that it is these monkeys who attract thousands of tourists to Thailand every year, and so this is their expression of gratitude to the monkeys!
The Thai monkeys have definitely set up a 'fruitful business'!

La Tomatina

Every year, there comes a day in Spain, when there is one hour of sheer madness! Thousands of people from around the world gather together and throw tons of ripe, squashed tomatoes at each other. Celebrated in the Valencian town of Brunol, this festival leaves the people and the streets completely covered in tomato pulp. Once the fighting ends, fire trucks come and spray the town and the people clean. Sounds like some crazy fun, doesn't it?




Photo by La Tomatina (by Reno Tahoe)


Several theories exist as to how the festival began, including one that it stems from the anti-Franco protests of 1945. However it originated, it sure is picking up more and more popularity each year. After all, who doesn't like a good food fight now and then? Plus, you don't even have to clear the mess afterwards!

El Colacho

El Colacho, a traditional Spanish holiday that dates back to 1620 is celebrated annually to commemorate the Catholic feast of Corpus Christi in the village of Castrillo de Murcia.
The babies born during the past twelve months of the year are laid down on mattresses on the streets. Then. men dressed as the Devil (known as the Colacho) jump over these babies.
The exact origins of this tradition are sort of unknown but it is said to cleanse the babies of sins in their previous births to ensure their safe and happy passage through the new life given to them.
The festival has been labelled as one of the most dangerous festivals in the world. Pope Benedict, in recent times, has asked Spanish priests to distance themselves from El Colacho and to downplay the tradition's connection with Catholicism.

Bull fighting festival

Every year, about fifty million foreign tourists come to Spain every year to attend the bullfighting festival. Now, there are over 400 bullrings in Spain and over 5000 bullfights annually! Before the bullfighting is a parade. The Matadors enter the bullring when the music starts, all dressed in embroidered corsets, helmets and leggings.Then, the referee announces the beginning of the event.
Usually, about 6 bulls are played in a show, each weighing between 370-500 kilograms. When the matador is about to defeat the bull, he is to perform two traditions: estocada( killing the bull in a single sword thrust) and Pega (grabbing the bull by its horns when it tries to rush at him). However, it is an extremely dangerous festival as several people have lost their lives in the bullrings as well!




Photo of Bull Fighting Festival (by 37 C)


Bullfighting traces its roots to prehistoric bull worship and sacrifice. The first recorded Bullfight may be the Epic of Gilgamesh which describes a scene in which Gilgamesh and Enkidu fought and killed the Bull of Heaven. It's definitely one of the most dangerous festivals ever celebrated but it is immensely popular-the crowd's cheering in one of these stadiums is literally deafening!

Mardi Gras

French for Fat Tuesday, Mardi Gras refers to the practice of eating richer, fatty foods just a day before the ritual fasting of the Lenten season begins on Ash Wednesday.
Some of the Popular practices include things like wearing masks and costumes, dancing, sports competitions, disregarding social conventions, parades and carnivals.
It commemorates the day of confession before the season of Lent begins and is usually celebrated in Belgium, Brazil, Germany, Italy, Netherlands, Sweden etc.
Its an extremely festive occasion with lively cultural and traditional elements to add to it's charm!

Halloween

Halloween, also known as All Hallows' Eve, is a yearly celebration observed in a number of countries on October 31, the eve of the Western Christian feast of All Hallows (or All Saints) and the day initiating the triduum of Hallowmas.
This is every child's favourite festival and it's no wonder why! Typically, children dress up in various scary costumes (or they wrap themselves in white sheets, desperately trying to scare somebody!) and then go trick-or-treating. Trick-or-treating is the best part- Children (or those who love free candies!) ring their neighbour's door bells and when the the door is opened, they put forth their already brimming bags for some more candy.




Photo of Halloween Celebrations (by Terry.Tyson)


People also carve pumpkins into lanterns, tell scary stories, play pranks, attend costume parties and watch horror films on Halloween.
Halloween originated in the British Isles, namely Ireland. The festival was originally called Samhain which means End of Summer. People thought that it was the night when the dead could walk the earth again. Hence, Halloween is associated with horror and ghosts.
A freaky festival made less frightening by the thought of trick-or-treating, Halloween is even being celebrated in India now!
That is some wackiness indeed. Isn't it?
Help us rate places you know

Food & Places To Visit