You've already uploaded some photos. Do you want to delete these photos?
Proceed
Debangana Sen
Jan 08 2014
Which are the famous events and festivals happening in January 2014 in India
Anupriya Bedi
Jan 08 2014
1

person

found this answer useful

Useful ?

Yes
Visit India in January and get surprised to witness some of the famous Events and Festivals in January in India. January is one month in which the New Year's Party and Celebration mode is still on. There's a common belief that the way you spend the first day of the new year is reflective of how the rest of the year would be like for you. After all, I believe that travelling to a new destination and be a part of a grand celebration or festival is the best way to start your new year.

International Kite Festival or Uttarayan

Known for being significant to Makar Sankranti, the International Kite Festival in Ahmedabad is celebrated as a symbol of Cultural Strength. See millions of brightly colored kites take over the sky from sunrise until sunset at this festival, which marks the occasion of Makar Sankranti (the transition of the sun into the northern hemisphere) and celebrates life and fertility. The event attracts kite flyers from many different countries. In addition to kite flying, there's aerial acrobats, kite painting competitions, and kite making workshops. The festival takes place in Jaipur at the same time with equal enthusiasm and attendance.

When: 9th-15th January, 2014
Where: Ahmedabad, Gujarat; Jaipur, Jodhpur
Entry: Free
Photo of International Kite Festival (by Sagarp7)

Pongal Festival

Pongal, a huge harvest festival in southern India, is India's equivalent of Thanksgiving. Pongal is a major celebration in Tamil Nadu and people celebrate it for about four days. The first day is called Bhogi; 2nd day is called Surya Pongal; the 3rd day is called Mattu Pongal and the last and fourth day is called Kanum Pongal. People buy new clothes and household items to mark the start of a new cycle.The Pongal festival also includes exchanging gifts, dancing, and buffalo-taming contests. The most important part of the festival is cooking the Pongal dish, made out of boiled milk and rice, on the auspicious second day. Since you would be in Tamil Nadu in this month, you can also explore some of the off-beat hill stations getaways from Chennai.

When: 14th-17th January, 2014
Where: Tamil Nadu
Photo of Pongal Festival (by Sowrirajan S)

Kutch Rann Mahotsav

Kutch Rann Mahotsav is started from 15th december,2013 and it ends on 15th February,2014. The main event takes place only for three days but the festival continues for few months. This long carnival organized at the various locales within Kutch takes one around the natural grandiose while introducing the visitor to the indigenous cultural and ethnical flavor of the people. It also offers an opportunity for visitors to attend Folk Dance, desert festival kutch, desert festival gujarat, desert festival india, Camel Safari, Live-in Tents, Musical Moments, Visit the Centuries and many more activities. Places of interest during Rann Utsav are Dholavira, Chhari Dhand, Mandavi Beach, Narayan Sarovar and many more in Bhuj Hub.

When: 15th December,2013 -15th February,2014
Where: Rann of Kutch
Entry: Free


Photo of Kutch Rann Utsav (by Official Website)

Lohri Festival

Lohri Festival is a significant Harvest or Bonfire festival in North India. Its marked by a range of traditional exciting activities such as lighting the ritualistic bonfire during the evening, dancing on the beats of the dhol, traditional handmade dishes, singing popular folklore around the bonfire and enjoying sumptuous feast of makki-di-roti and sarson-da-saag. The folklores is also an integral part of Lohri which is all about expressing gratitude to the good harvest season and the natural elements such as water, wind and fire. On this day, people remember Dulha Bhatti - a famous legendary hero who helped the poor by robbing the rich, by singing folklores. You can also dig into famous local food of Delhi if you happen to celebrate Lohri Dilliwala's style!

When: 13th January, 2014
Where: Delhi, Punjab, Haryana, Himachal Pradesh
Photo of Lohri Bonfire (by Satish Krishnamurthy)

Jaipur Literature Festival

The Jaipur Literature Festival is the largest literary festival in Asia. It takes place annually in the city of Jaipur welcoming everybody without an entrance fee. A wide range of book readings, talks, debates, performances are held, attracting authors and readers from all around the world. Check out this page to know about the Literature Festivals around the World!

When: 17th-21st January,2014
Where: Diggi Palace, Jaipur
Entry: Free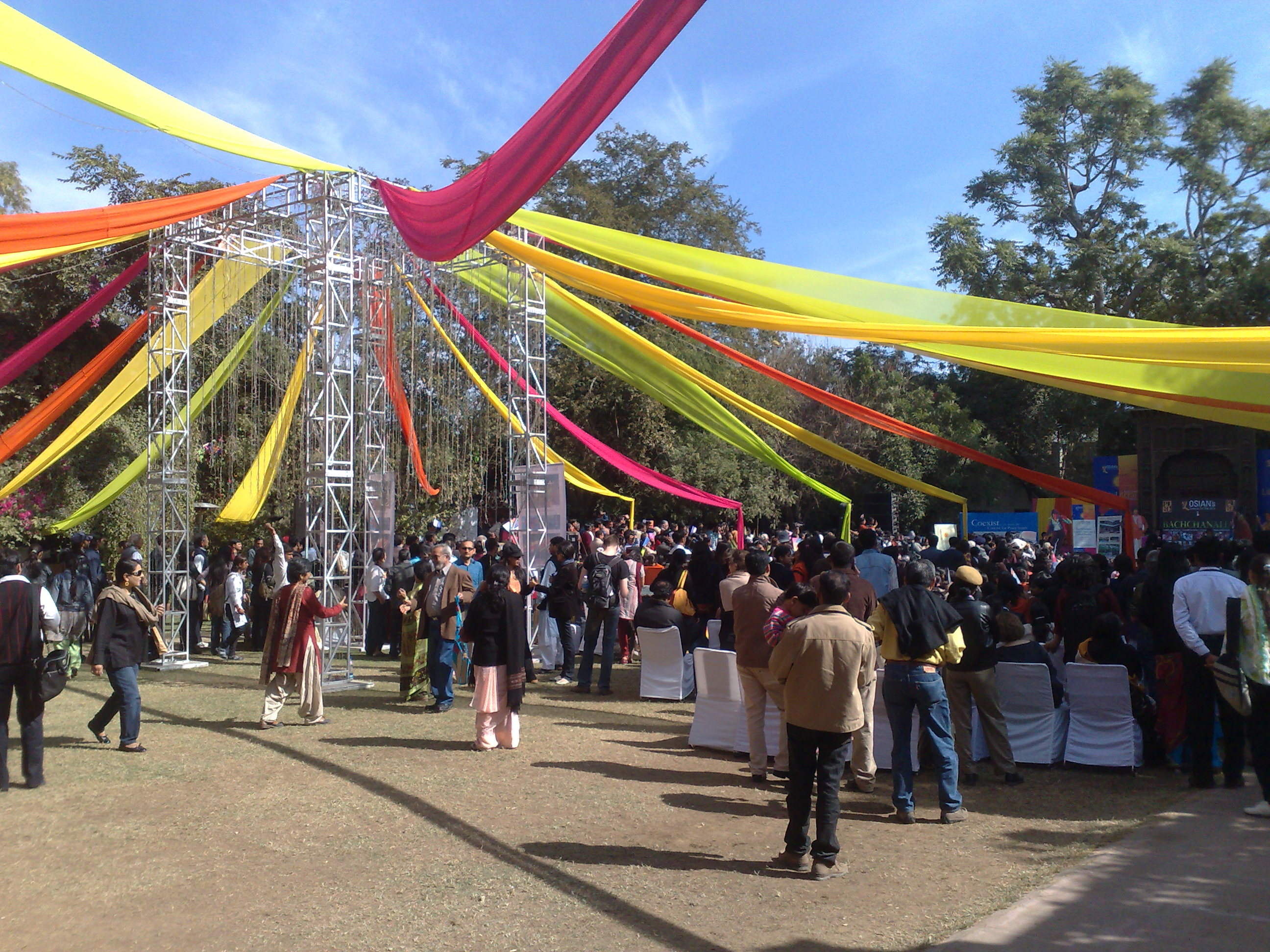 Photo of Jaipur Literature Festival (by STML)

Armin Van Buuren India Tour 2014

Armin van Buuren Intense Album Launch Tour in India and Sunburn leads the way to bring the most celebrated and popular DJ of all time in Mumbai to stole your night away. For all the Trance Lovers, this is one event not to be missed at all cost. The man will play an extended 6-hour set that will tell the whole story and take each and every one of you on an unadulterated AVB journey, for the first time ever. You can also take a look at the other popular festivals and events in Mumbai.

When: 24th January,2014
Where: NSCI-SVP Stadium, Lala Lajpatrai Marg, Worli, Mumbai
Entry:Ticket prices ranges from INR 3250 to INR 6000
Photo of Armin Van Buuren India Tour (by Official Facebook Page)

Bikaner Camel Fair

As its name suggests, the focus of Bikaner Camel Fair (organized by the Rajasthan government's Department of Tourism, Art & Culture), is camels and plenty of them. The festival kicks off with a procession of camels decorated in their finest attire, and continues on with camel beauty pageants, camel races, and camel dancing. Who ever thought camels could dance, it's worth attending the festival just to see that performance! The festival ends with entertainment by Rajasthani folk artists, and fireworks. You can also explore the top tourist attraction places while your stay at Bikaner.

When: 15th-16th January, 2014
Where: Village Ladera, Bikaner, Rajasthan
Entry:Free
Photo of Bikaner Camel Fair (by Ekabhishek)



Goa Lokotsav 2014 Folk Festival

Goa is one destination where celebrations never end and it hosts different famous festivals every month throughout the year. This folk festival provides a platform for traditional artisans from different parts of India and Goa to display and sell their wares. This is the 15th National Level folk festival with a whopping 450 stalls of handicrafts and arts. Craftsmen from various parts of country will exhibit and sell their handcrafted items. Around 600 craftsmen and 300 performing artists are expected to participate. Plenty of food and drink stalls, a real festival atmosphere, and everyone's invited.

When: 7th-16th January, 2014.
Where: OpenAir Theater at Kala Academy, Dayanand Bandodkar Marg, Campal, Panjim, Goa
Entry: Free


Photo of Goa Lokotsav 2014 Folk Festival (by Official Website)

Chennai Music and Dance Festival

Chennai Music and Dance Festival is often described as the world's largest cultural event. The city comes alive during the festival with more than 300 concerts and 2000 participants performing at various venues throughout the city. The festival attracts some of the oldest exponents in the trade from around the world. Tourists flock the city during this part of the year to experience the exotic dance festivals of India presented by dancers who are immensely talented. Performances during the festival include instrumental and vocal music, group and solo dance performance by senior and junior dancers. This festival is a huge boost to the upcoming artistes as they get to perform along with renowned artistes. Do check out the popular weekend getaways while your stay in the metropolitan city!

When: Mid December to January
Where: Music halls all over Chennai, Tamil Nadu
Entry:Free
Photo of Chennai Music & Dance Festival (by Official Website)

Teesta Tea & Tourist Festival

The Teesta Tea and Tourism Festival is organized jointly by the Tourism Departments of Sikkim, Darjeeling Gorkha Hill Council and West Bengal in the month of January to capitalize on the popularity of the Darjeeling Tea. The festival is held for 9-10 days. Tourists can spend hours tasting the different tea varieties and brews on offer at the festival. Other attractions include wildlife safaris, water sports like white water rafting, nature walks, trekking, and golf apart from the unique working tea estates where guests can engage in tea-plucking and other related activities. Food lovers can go for the food festival that showcases local cuisine, and a film festival is also held for the movie buffs. Children can enjoy the fair-ground attractions, toy-train rides, etc. Check out other popular festivals and events in Darjeeling.

When: January
Where: Darjeeling, West Bengal
Entry:Free
Photo of Darjeeling Tea Garden Worker (by Benoy)

Ajanta-Ellora Festival

The Ajanta-Ellora Festival is an exotic and delightful dance and music festival held at the Soneri Mahal in the traditional city of Aurangabad. The impressive surroundings of the Ajanta-Ellora Caves and temples will make your visit all the more alluring.This festival, organised annually by Maharashtra Tourism Development Corporation, showcases renowned musicians and dancers from all over India as well as provides an opportunity to explore the magnificent caves, filled with history. You can also take a look at the other popular festivals and events in Mumbai.

When: 15th January, 2014
Where:Soneri Mahal, Aurangabad, Maharashtra
Entry: Free
Photo of Ajanta-Ellora Festival (Official Website)

Hampi Festival

Dance, drama, music, puppet shows, fireworks, and spectacular processions all take place against the ruins of Hampi at this lively festival. The idea behind the festival is to recreate the grandeur of the time when Hampi was the capital of Vijayanagar, one of the greatest Hindu kingdoms in India's history.
When: 10th-12th January,2014
Where: Hampi Village, Vijayanagar, Karnataka
Entry: Free
Photo of Hampi Festival (by Diego Wyllie)

Mukhtsar Fair

A mammoth gathering takes place every year in Muktsar on occasion of Maghi Mela celebrated after next day of Lohri in January when a fair is organized to commemorate the valour of 40 Muktas. These Muktas sacrificed their lives at Battle of Khidrana fought between Mughal army and 10th Guru, Guru Gobind Singh Ji. Pilgrims take bath in the sacred tank on the occasion. The whole town wears a festive look at the time of Mela. A big cattle fair is held at village Lambi Dhab on the occasion of Maghi Mela known as 'Ghorhian Da Mela'. The good breed horses, for which Sri Muktsar Sahib is famous throughout Punjab, are showcased at the fair.

When: 14th-16th January, 2014
Where: Muktsar, Punjab
Entry: Free

Milad un-Nabi

The Prophet's Birthday, or Milad un Nabi as it is commonly known in Muslim culture, is celebrated in most of the Muslim countries and in India as well. The day is celebrated to commemorate the birth of the Prophet Muhammad. Many Sunni Muslims celebrate this event on the 12th of the Islamic month of Rabi' al-awwal, while the Shi'a community celebrates it on the 17th of Rabi' al-awwal.Many people carry green flags or banners or wear green ribbons or items of clothing when taking part in these events. The color green represents Islam and paradise. Many Kashmiri Muslims gather at the Hazratbal shrine in Srinagar, which is in the Indian province of Jammu and Kashmir. It houses a hair that is believed to have come from the Prophet Muhammad. Thousands of people attend prayers at the shrine on the night before Milad un-Nabi. The relic is displayed in the mosque after the morning prayers.


When: 12th-13th January, 2014
Where: Throughout India mainly Lucknow, Hyderabad, Jammu & Kashmir
Photo of Milad-un Nabi Festival Celebrations (by Shujaat Ali Quadri)

Magh Mela

Magh Mela is an annual festival, and it is also called as mini Kumbh mela. The Magh Mela is an auspicious festival for all the Hindus and is celebrated in the month of Magh as per the Hindu calendar, which falls during the month of January or February. This annual event is a mini version of the Kumbh Mela, which is celebrated after every 12 years. During the mela, several cultural events are held. Dramatic portrayals from Hindu Epics and Puranas, Bhajans, music and dance performances and folk theatre are part of the grand spectacle. Free food and accommodation is provided by many organizers for the Sadhus and people who come from all over the country.

When: Commences at 14th January
Where: Triveni Sangam, Allahabad
Photo of Magh Mela (by Official Facebook Page)

Thaipusam
Thaipusam or Thaipoosam is a Hindu festival observed by Tamil communities on the full moon of Thai based on Tamil calendar. It commemorates the day when Parvati, the wife of major Hindu deity Shiva, gave a spear to her son Murugan in order to defeat the evil demon Soorapadman. Tamil people celebrate Thaipusam by wearing yellow or orange clothes and offer yellow and orange fruits to Hindu God Murugan. The offerings are put inside kavadi, bamboo structure garnished with peacock feathers and clothes, and carried to certain Tamil Hindu temples. Some others even pierce their faces or bodies with hooks, skewers, or small lance to redeem their sins.

When: 17th January,2014
Where: Tamil Nadu, Singapore, Malaysia
Photo of Thaipusam (by Goh PS)

Mamallapuram Dance Festival

The open air Mamallapuram Dance Festival is held against a background of rock sculptures in the beach town of Mamallapuram or Mahabalipuram as its commonly known lies just south of Chennai. Its an event that encompasses the Indian classical dance forms like Bharatanatyam, Kuchipudi, Kathak and Kathakali. It runs for a month and showcases a range of classical and folk dances from all over India. The crowd gets a visual treat by the incredible performances of Indian folk dancers where artists perform beautifully decked up in the finest traditional attire representing the rich cultural heritage of the country.
When: 14th January-25th January, 2014.
Where: Arjuna's Penance, Mamallapuram, Near Chennai, Tamil Nadu.
Timings: 6 PM to 9 PM
Photo of Mamallapuram Dance Festival (by Arian Zwegers)

Jallikattu
Jallikattu is a bull taming sport played in Tamil Nadu as a part of Pongal celebrations on Mattu Pongal day.Annually, Jallikattu is held from January to July, played first in Palamedu,near Madurai on January 15 followed by the world-famous "Alanganallur-Jallikattu" in Alanganallur, near Madurai on 16 January. There is a specific breed of cattle bred for this purpose known as Jellicut and from the place of a big breeder Pulikulam.This is one of the oldest traditional sports of India, which no adventure-loving spectator can afford to miss.

When: 15th January-16th January
Where: Madurai, Alanganallur, Tamil Nadu
Photo of Jallikattu (by Lamkarna)


India is a land of great diversity. It described as a land of many religions and innumerable languages, it might well be described as a land of festivals as well. So make your reservations in advance for these Events and Festivals in January in India and go beyond the 'tourist' self. Explore the traveller in you!
MORE QUESTIONS ABOUT
India
most popular
|
most recent
|
most relevant
|
unanswered questions
Help us rate places you know

Food & Places To Visit