You've already uploaded some photos. Do you want to delete these photos?
Proceed
Which are the World's Weirdest Restaurants?
18

people

found this answer useful

Useful ?

Yes
Check out the World's Weirdest Restaurants. If your are tired of eating out at the popular usual places, try this handpicked list of some of the weirdest themed restaurants that will take you on a gastronomic ride with an unusual and interesting twist. From poo-shaped ice-creams to 7.8 earthquakes, you'll discover some of the most weird restaurants around the globe. These restaurants are worth travelling for and if you happen to be any of these cities do not forget to avail ixigo's LTC discount on your hotels and flights bookings. Check the flight booking option on ixigo and find regular flights to international destinations .

Modern Toilet Restaurant, Taiwan

Modern Toilet Restaurant in Taiwan is one of the most weirdest restaurants in the World. The whole decor and ambiance of the restaurant is done like that of a washroom. The chairs are toilet seats and the tables are usually the bath tubs. And the food is also served in toilet bowls but trust me they don't taste gross. The dishes are named as 'Constipation' and 'Smells like Poop' in the menu. Must try is the 'Chocolate Poop'..Okay hold your horses, its chocolate ice cream shaped in the form of poop. There's 'Bloody Number 2' also in the desserts section which is a strawberry ice cream dessert that is worth trying. And, All these are served in Miniature toilet bowls and toilet paper is given as hand towels. Weird, isn't it!!



Photo of Modern Toilet Restaurant, Taiwan (by Rinux)


Monkey Izakaya Kayabuki, Japan

Monkey Izakaya Kayabuki in Japan is where we are served by our ancestors-Monkeys! We always knew that monkeys are as clever and smart as human beings but didn't knew that they can serve you so well. Its an exciting yet terrifying experience for some as monkeys play with the guests while they have the traditional home-cooked style japanese food. The monkeys are the owner's pets and are well trained to bring you towells and climb your heads or shoulders while you eat. Sounds pretty cool!



Photo of Monkey Izakaya Kayabuki, Japan (by Official Facebook Page)


Disaster Cafe, Lloret de Mar, Spain

Disaster Cafe in Spain is one of the weirdest restaurants around the World. Have you thought of surviving a 7.8 earthquake while having a sumptuous meal. Well, this place is exactly where you should head to for this simulated tremorous experience. The restaurant looks ordinary from outside but as soon as you enter the restaurant, there is a space ship decor at the ground floor especially for kids with waiters dressed as aliens. But the real experience is waiting in the basement area where guests are welcomed by waiters dressed in safety helmets. You would never know when the earthquake will initiate until the lights start flashing and people start yelling. So, do not dress in your finest clothes because spilled food and drinks are common here. This is definitely worth a try for all the adventure junkies!



Photo of Disaster Cafe, Lloret de Mar, Spain (by Official Website)


Dinner in the Sky, Belgium

Dinner in the Sky originated in Belgium but now has spread to many nations worldwide. If you have always dreamt on dining at Cloud number nine, this is the closest you can get to the whole idea. There is a crane that lifts the dining table with a seating of 20 diners at a height of 150 ft from ground level.



Photo of Dinner in the Sky, Belgium (by Official Facebook Page)

New Lucky Restaurant, Ahmedabad, India

New Lucky Restaurant in Ahmedabad is popularly known for 'Dining with the Dead' experience. The restaurant is built in a graveyard with graves from an ancient time. The place is famous for its soft rolls and tea and the guests pour in everyday without bothering about the entire place surrounded by graves. The owner and guests also consider these graves a good luck charm.



Photo of New Lucky Restaurant, Ahmedabad, India

Heart Attack Grill, Las Vegas

As the name suggests, while dining here at Heart Attack Grill, people do get heart attacks, literally! Las Vegas is extremely famous for its cheesy burger chains and numerous outlets but this one comes with a warning. The burgers here are grandly huge and are named as single, double, triple and quadruple. The orders are taken by waitresses dressed as nurses and makes you wear hospital gowns and spanks you while you dig into these heart-attack meals on your plate. The Quadruple Burger is insanely huge and heavy with lard coated buns stuffed with 4 beef patties, 8 slices of cheese, 16 slices of bacon and served along with fries which are deep fried with lard. After surviving this heart attack recipe, you are being taken out of the restaurant in a wheelchair.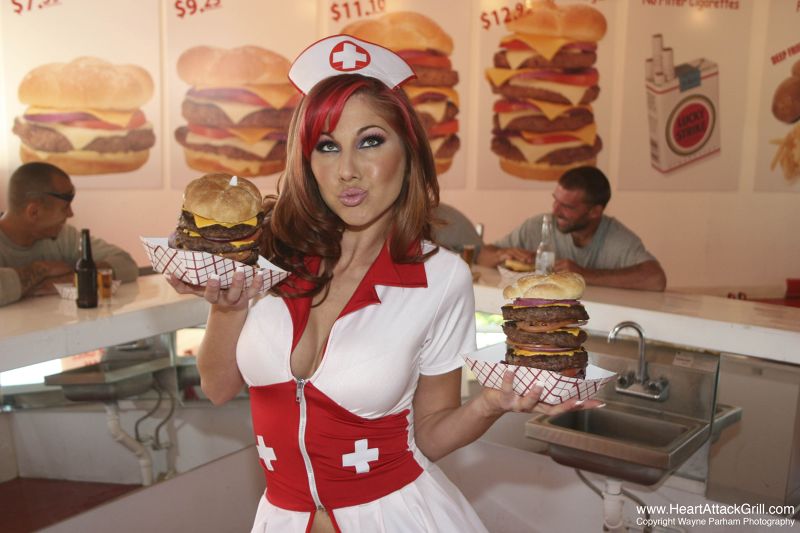 Photo of Heart Attack Grill, Las Vegas (by Official Website)


Nyotaimori, Japan

I guess everybody would have seen the weird psycho movie, Cannibal. Well, Nyotaimori restaurant is one of the restaurants that serves body sushi and has taken the concept to a whole new weirder level and people eat sushi and sashimi off a naked women body. Nyotaimori literally also mean Female Body Plate but before you all takes an erotic turn here, let me clarify, the body is made up of edible stuff and the hostess puts the edible women body on the operating table for the diners. Than she cuts the body with scalpels and other operating tools and serve guests with internal body organs but do not freak out, everything from the red colored blood pouring out of her body to her organs, all are edible!



Photo of Nyotaimori, Japan (by Official Facebook Page)


Beer Spa, Czech Republic

Beer Spa in Czech Republic really knows how to make their guests feel pampered. Its a restaurant where you can gulp down chilled beer while you are soaked in 'IT'. Here, you can take a beer spa along with having a mug of the same. The wooden tub has a tap attached to it from which beer keep pouring down. Its a really cool idea and the guests are seated close by in wooden tubs filled with beer and are served food right while you are having a spa and a beer.



Photo of Beer Spa, Czech Republic (by official Website)


Dick's Last Resort, United States

Dick's Last Resort is a restaurant chain that has 7 restaurants at different locations in the United States. Its notoriously acclaimed for intentionally hiring abusive and rude staff. The diners are exposed to adult bibs and jokes while having food. The guests also take these abusive verbal attacks in a lighter way and laugh the day off with great food.



Photo of Dick's Last Resort, United States


Clothing Optional Diners, Manhattan

Clothing Optional Diners is weird in its own way yet really bold. Its a social event that takes place every month by a nudist activist in the whole of Manhattan. They rent restaurants every month and dine in them completely 'Naked'. As soon as they enter the restaurant they undress completely so from waiters to guests, everybody is completely nude. They carry a towel along with them on which they sit and their motto is "No hot soup'.



Photo of Clothing Optional Diners, Manhattan (by Official Facebook Page)


These restaurants have been selected because of their unusual and exquisite themes. And, these themes and experiences which the diners are exposed to are the reasons of their entry into the list of World's Weirdest Restaurants and do not forget to avail ixigo's LTC discount.
1

person

found this answer useful

Useful ?

Yes
what an amazing piece of info... great compilation !
0

people

found this answer useful

Useful ?

Yes

Help us rate places you know

Food & Places To Visit