more
Account
Bookings
ixigo money
Alerts
Travellers
Logout
4.5/5 - Excellent
(712 reviews)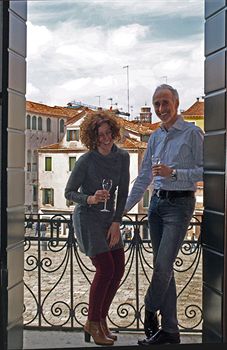 + 24 more
Cà Sant'Angelo Review and Rating
#27 of 386 hotels in Venice (712 reviews)
powered by
WRITE A REVIEW
5 nights in Venice for 60th birthday
by undefined on 16 Jan 2017 (Couple Traveller)
I think the double room booked was upgraded as we had a very comfortable seating area as well as the double bedroom and en suite bathroom with jacuzzi bath. Overlooking a square at the back of the hotel which initially was a little disappointing but can't knock it for the price and probably quieter than being on the Grand Canal side. Very classically decorated room in reds and gold with marble bathroom. Very welcoming reception and helpful porter and all the staff and managers continued to b...
Read More
Perfect location, just the right amount of everything
by Susan W on 07 Jan 2017 (Couple Traveller)
This was my first stay in Venice and certainly will not be my last. I chose this hotel from recommendations on various websites and was certainly not disappointed. The hotel is very small - only 22 rooms of which 6 face the Grand Canal. We we fortunate to be upgraded to one of those facing the Grand Canal the only downside of this room is that it is a little noisy with the comings and goings of the vaporettos but the view and ambience more than made up for it. Our room was all we could ask for ...
Read More
Ornate rooms in a great location
by Toby T on 07 Jan 2017 (Family Traveller)
Enjoyable stay at this well located hotel right on the Grand Canal. Nicely appointed in classic Venetian style. The room was small for two and adults and two young kids, but we took advantage of a 40% off sale when we booked and couldn't complain too much. Typical Italian breakfast with continental pastries, meats and cheese. Lovely warm hospitality. You could get a ferry very close by, too. Very nice place to stay.
Nice hotel on the Grand Canal
by debl278 on 04 Jan 2017 (Family Traveller)
Stayed 2 nights, great hotel with excellent location. Walked everywhere and Vaporetto stop close by. Staff helpful , friendly, and accommodating. Marco, the concierge went above and beyond. He arranged restaurant reservations for our party of seven, gondola rides and answered all my questions prior to arrival. Our room was upgraded to a Jr suite and rest of our party had classic rooms. All the rooms were spacious and similar in style.
Very Nice Hotel
by ayvc on 18 Dec 2016 (Couple Traveller)
Very nice quaint hotel right on the canal. Location was close to the shops and dining areas but very easy to get lost especially at night through the winding streets. Breakfast was great nice selection of pastries and fruits. Hotel staff was very friendly and helpful. We did have one front desk clerk that would not call the airline for us when we had an issue with our return trip. Other than that everything was perfect. Room very clean, spacious and nicely decorated. Very pleased with our stay.
READ ALL REVIEWS
Cà Sant'Angelo Address
Address
San Marco 3569, San Marco
Venice, Veneto, Italy
About Cà Sant'Angelo
CHECK IN 3:00 PM
CHECK OUT 11:00 AM