more
Account
Bookings
ixigo money
Alerts
Travellers
Logout
Hotels

››

Calas Marina (Apartments)
Calas Marina (Apartments) , Benidorm
3/5 - Average
(359 reviews)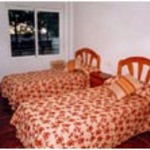 Calas Marina (Apartments) Review and Rating
#151 of 193 hotels in Benidorm (359 reviews)
powered by
WRITE A REVIEW
Quiet but basic
by Mercedes P on 07 Dec 2016 (Couple Traveller)
Stayed here for 4 nights. Very quiet area la cala away from the hustle and bustle of benidorm. It is only 5 min walk down to a nice quiet beach and about a 10 min walk to la cala. A lovely walk down the beach front to the old town about 30-45 mins then 10 mins to the new town. We usually walked down and got the bus back to the hotel. The hotel is nice but it is quite basic. Didn't use the swimming pool. But it did look quite small. We had bed and breakfast went down once for it. We didn't like i...
Read More
Basic but clean
by popkit on 02 Nov 2016 (Friends Traveller)
Arrived late on the Thursday , room is ok , clean , balcony unsafe for small children .. we booked in bed and breakfast but only ate breakfast once as it wasn't to our taste .. rooms mopped everyday and beds made .. sheets changed if we stripped beds .. for food I'd go either seven stars which is opposite or opposite the Bali there is a square .. the paradise bar is amazing food and does proper home cooked chips !! Bus stop just down from hotel .. costs 1.50€ to get the the old or new town ... ...
Read More
Basic, clean and functional hotel, but poor food
by taximan49 on 27 Oct 2016 (Couple Traveller)
Just spent a week in this hotel. The hotel is basic but clean and functional, staff ok. Food in the evening was pathetic. First nights supper, meatballs, burger or fried egg with chips with green beans. My wife has crohns disease so this didn't give her much option. Monica in the bar was good and extremely generous with the "can I have a brandy to take to my room" measures. Excellent bus service to all local destinations. Had a fab time here but should have gone for b&b as we ate out 5 nights ou...
Read More
calas marina
by natalie w on 18 Oct 2016 (Friends Traveller)
where to start first of all the staff were nice. food disgraceful no sun on the pool. evening entertainment medium . way too far from the night life good bus service to and from hotel. wil not be going there again.
I would not stay here again, nor recommend to anyone else.
by Christina D on 18 Oct 2016 (Couple Traveller)
My partner and I had a 7 night stay in this hotel early October. I had read reviews, mostly bad, however I was still looking forward to going. But Im afraid to confirm the bad reviews are mostly all true. The food is very poor in terms of choice and execution. the scrambled eggs at breakfast looked undercooked. The juice was just sugar laidened cordials. the bacon was thinly sliced, grilled ham, and sausages mostly hotdog style.The toast was ok!!! I did not go to dinner due to the quality of the...
Read More
READ ALL REVIEWS
Calas Marina (Apartments) Address
Address
OVIEDO
Benidorm, Valencia, Spain
About Calas Marina (Apartments)
CHECK IN 2:00 PM
CHECK OUT 12:00 PM