"Bura na mano, Holi hai"
The Festival of Colours is here! Yes, we are talking about the most celebrated occasion in India, Holi. From a colourful atmosphere to gulal smeared faces and yumilicious delicacies, the spirit of this festival is exceptional. 

So, here is a list of the 5 biggest Holi parties of 2019. Pick your favourite destination and head for a crazy Holi celebration this year!
Book Flight
Biggest Disco Holi, Bengaluru
With Bollywood music and DJ, organic colour supply, live dancers and balloon fight, experience Holi like never before at the biggest disco Holi party in Bengaluru.

Place: Bengaluru, Karnataka
Address: Sky Deck, V. R. Bengaluru, Plot No.11 B, Devasandra Industrial Area, Krishnarajapura
Date: 21st March
Time: 12 AM onwards
Cost: Rs.300/adult and Rs.99/kid (5-8 years)
Colour Splash, Mumbai
Take a trip to Mumbai  for a colourful time. Playing Holi in the 'City of dreams' will surely make this festival memorable for you in every sense. Experience rain dance, foam zone, 7 hours non-stop music and much more at this event.

Place: Mumbai, Maharashtra
Address: Country Club Andheri, Veera Desai Road, Andheri West
Date: 21st March
Time: 10 AM onwards
Cost: Rs.500/entry

Tamatar-ee-na Holi Hai, Gurugram
Celebrate the famous Tomatino festival, Indian Style. With various pools loaded with tomatoes, this event will also have zipline, free fall, cycle zipline and many more things. WOW!

Place: Gurugram, Haryana
Address: Frenzy Adventure, Sohna road, Sector 68
Date: 21st March
Time: 9 AM onwards
Cost: Rs.499/entry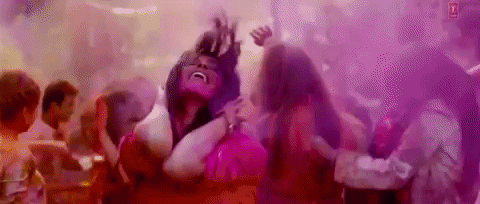 Holi Blast 4.0, Delhi
With a blend of music, art and colours, Smokin' Aces Entertainment in collaboration with Delhi Tourism is all set to host its 4th annual Holi festival. Thousands of people, all dressed in white, will come together to indulge in dance, music performance art and visual stimulation.

Place: Delhi
Address: The Garden of Five Senses- KALAGRAM, Freedom Fighter Colony, Saiyad ul Ajaib
Date: 21st March
Time: 10 AM onwards
Cost: Rs.2500/entry
Rang Barse Holi Festival, Jaipur
Wondering how to celebrate Holi in a different way? Well, visit the Pink City and attend the Rang Barse Holi Festival. Also, don't forget to experience the Elephant festival.
Place: Jaipur, Rajasthan
Address: The Golden Days Club, 334, Jhotwara Road, Hanuman Vatika-1, Heerawala
Date: 21st March
Time: 9 AM onwards
Cost: Rs.499/entry
So, what are your plans for Holi, this year? Do share your experiences with us. Till we meet again, happy travels!