Assam, the land of gorgeous mountains and the mighty Brahmaputra will take your heart away!

Nômôskar! Bohag Bihu is one of the most important and celebrated festivals in the Bihu calendar of Assam. It is also known as Rongali Bihu and marks the beginning of Assamese New Year.

Date: 15th – 21st April

How is the festival celebrated?
It includes a number of practices  and the most important events are listed below:
The first day of the festival is known as 'Garu Bihu' where cattle are bathed with a combination of symbolic herbs. This is done to thank the animals for helping in the farm work. 
Did you know? On this day, the animals are allowed to roam freely in the field.

The 2nd day is known as 'Manush Bihu,' where locals wear new attire and visit friends and relatives to exchange gifts and food items.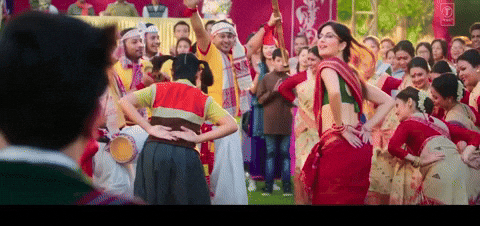 Fact: Pitha, the most popular snack in Assam (a type of rice cake) is generally made on special occasions like Bihu.

'Gosain Bihu' is the 3rd day of the festival where people worship the deities and seek blessings for a smooth year ahead.

Main attraction of the festival: Bihu dancing
Book Flight to Assam

Tip: Once you plan to visit Assam, make sure to explore places like Kaziranga National Park, Kamakhya Temple, Pobitora Wildlife Sanctuary and Basistha Temple for a complete experience.
Top Searched Flight Routes
Bangalore To Lucknow Flights | Ranchi To Bangalore Flights | Pune To Jaipur Flights | Kolkata To Bagdogra Flights | Delhi To Leh Flights | Chennai To Pune Flights | Delhi To Bali Flights | Jaipur To Delhi Flights | Kolkata To Hyderabad Flights | Kolkata To Pune Flights | Mumbai To Gorakhpur Flights | Jaipur To Bangalore Flights | Ahmedabad To Bangalore Flights | Jammu To Delhi Flights | Delhi To Dehradun Flights | Delhi To Nagpur Flights | Ahmedabad To Pune Flights | Surat To Delhi Flights | Mumbai To Bhubaneswar Flights | Chennai To Dubai Flights
Till we meet again, happy travels and a very Happy Bihu 😀