IRCTC will 'gradually' resume train operations from today even as the nationwide coronavirus lockdown will continue till 17th May. 

हिंदी में पढ़ें

Here is a complete list of 15 special trains (to and fro):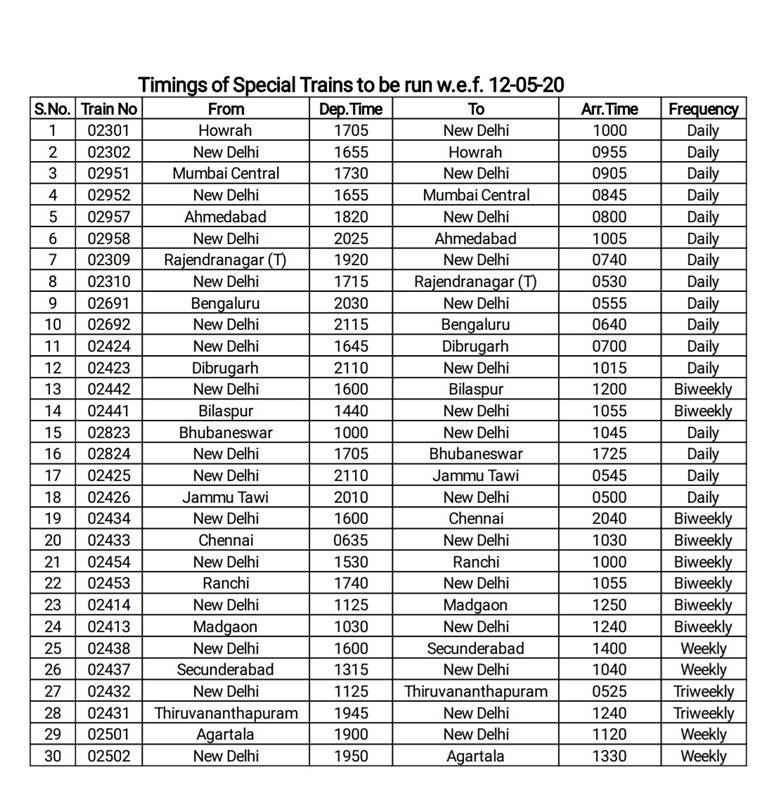 Also read: Here's How You Can Book Train Tickets For Special Trains

What is the price of the tickets?

These trains will include only AC coaches with a similar fare structure as the premium Rajdhani trains.
Note: There is no clarity yet whether senior citizens will be allowed to board these special trains.

The cancellation charges would be 50% of the fare. Also, there will be no provision for waitlisted, RAC, tatkal tickets or premium tatkal tickets.



No blanket and linen shall be provided in these special trains. 
IRCTC resumes train operation, Check the full list of COVID special trains.
Top Searched Train Routes
Jaipur To Kota Trains | Delhi To Haridwar Trains | Bhopal To Indore Trains | Jodhpur To Jaipur Trains | Mumbai To Ahmedabad Trains | Chennai To Coimbatore Trains | Lucknow To Delhi Trains | Chandigarh To Delhi Trains | Howrah To Digha Trains | Delhi To Kolkata Trains | Delhi To Ahmedabad Trains | Trichy To Chennai Trains | Jaipur To Ajmer Trains | Nagpur To Pune Trains | Surat To Ahmedabad Trains | Chennai To Madurai Trains | Madurai To Chennai Trains | Coimbatore To Chennai Trains | Surat To Mumbai Trains | Jammu To Delhi Trains
googletag.cmd.push(function() { googletag.display('div-gpt-ad-1510574137247-2'); });