Celebrated in the Malayalam calendar month of Medom, Thrissur Pooram is an incredible seven day long grand celebration of faith, life and divinity. It is dedicated to Lord Shiva and this year, it falls on the 13th of May.
Started first in 1798, this festival has, over the years, attracted scores of people from all around the world to witness its grandeur in person.
Where:
What to Expect:
An electric environment full of chaos, fireworks and years of untouched tradition. A record breaking number of people chiming joyfully to the sounds of the percussion ensemble in unison, while a 100 decked up elephants lead the most extravagant procession ever. Now, this is a sight nobody would want to miss!  
All Gods and Goddesses situated in and around the city of Thrissur participate in the festival. In total, there are 10 deities/temples who make their grand appearances in front of Lord Shiva here.
Day 1:
Six days before the festival, flags are hoisted at the two main participating temples of Paramekkavu Bhagavathi temple and the Thiruvambadi Sri Krishna Temple, officially kick-starting the festivals. This ritual is called Kodiyettam (flag-hoisting) and all the 10 deities are divided into two teams headed by these two temples for the final competition.
Day 2-3: The temple administrations and authorities conduct exhibitions and trade fairs across the city, drawing attention to the cultural and religious importance of the festival.
Day 4-5: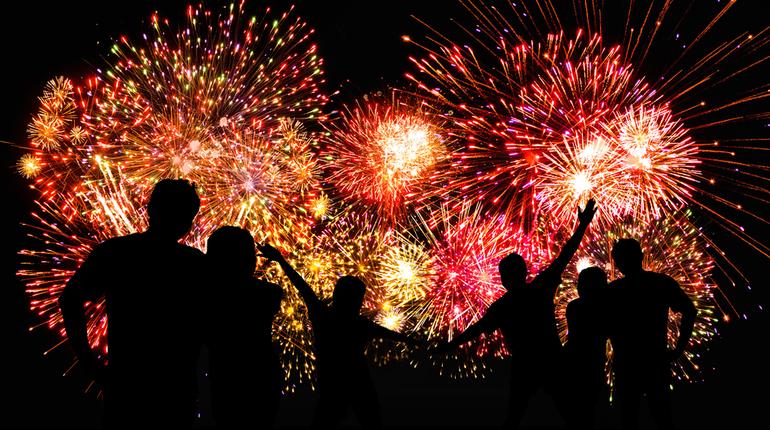 On the fourth day of the celebrations, a firework competition is held between the temples of Thiruvambady and Paramekkavu. Each temple tries its best to come up with the most innovative firework display each year. It's an important part of the festival and if you're in the city, do not miss it! On the fifth day, a Chamayakazcha (Elephant Accoutrements Exhibition) is organised.
Convinced, already? Don't delay that Kerala vacation anymore! Book your tickets now:
Day 6:
It is the most anticipated day of the whole week. The festivities start with Kudamattam, a colourful, eye catching attraction where both teams change colourfully crafted umbrellas in a competition, sitting on top of elephants, while a sea of people cheer for their favourite team, swaying to the rhythms of the traditional drums. This event is then followed by an intense competition of Vedikettu (fireworks) by both teams that carries on late into the evening.
Day 7:
This last day of festivities begin with both the temples bringing their goddesses to the Vadakkunnathan Temple, accompanied by 15 elephants each. One elephant from each side meets the other in the centre and both curl their trunks as a gesture of officially bidding farewell and promising to meet again next year.
Kerala is a paradise for nature lovers! And even if you miss this year's Thrissur Pooram, there's always going to be a next time. Book your tickets now to this God's own country and let its beauty do the rest of the talking! Happy Vacations!