Check IRCTC PNR Status
Enter 10-digit PNR number in search box and click "Search".
It will provide the current PNR status of your booked train ticket with passenger and train details. PNR of the tickets booked online(e-tickets) could be seen at top center of your ticket.
On ixigo, you can easily check PNR Status in hindi to access the latest information of your booked ticket.
Only limited seats available in a train so its not possible to provide confirm ticket for every booking. IRCTC train ticket booking system provides CNF (Confirmed) and RAC (Reservation Against Cancellation) status when tickets are available and the bookings made after that are provided waitlisted status. Waitlisted tickets gets confirmed in order only if any of CNF/RAC ticket gets cancelled.
Especially when you have a waitlisted ticket, tracking Indian Railway pnr status live becomes even more necessary. Other travel details like coach number, berth number and berth type are provided only if the booked ticket status is Confirmed (CNF).
Types of IRCTC PNR Status
Different PNR status types provided:
CNF - It means confirmed. The ticket status shows as CNF when seats are confirmed.
RAC - It stands for Reservation Against Cancellation meaning the train ticket has a confirmed seat but wait-listed berth. If the tickets are booked under RAC status, then the allocated berth has to be split into two seats.
CAN - It means Cancelled i.e. ticket has been cancelled.
WL - Waiting List is a ticket status that gets confirmed only if the passengers on the same train who have booked before you cancel their ticket.
GNWL - General Waiting List. The probability of this ticket status getting confirmed is very high.
PQWL - Pooled Quota Waiting List status is issued when a passenger is travelling from the origin station to a station short of the last station, or from an intermediate station to the last station, or between any two intermediate stations.
RLWL - Remote Location Waiting List means a ticket has been issued to a passenger for intermediate stations (between the origin and terminating station). These intermediate stations are usually the most important towns on the route in particular.
TQWL - Tatkal Quota Waiting List. This is the waiting list for tatkal tickets. The tickets in Tatkal get confirmed directly, instead of going through RAC. However during chart preparation GNWL is preferred over TQWL.
NOSB - It stands for NO SEAT BERTH which means journey is allowed without seat. This is allotted to child passengers below age 11 years.
PNR Confirmation Probability
PNR confirmation probability means the chances of getting ticket confirmed if the current status is "Not Available". When all the confirmed and RAC tickets are sold out, Indian Railway assigns a waitlisted ticket for further bookings done of respective train and class. The ticket confirmation probability for these waitlisted depends upon the cancellations of confirmed and RAC tickets only. It also relies on factors like weekends, season, festivals, special events, among other factors. Once your ticket is confirmed, check train running status.
PNR Status
PNR is a 10-digit number which stands for Passenger Name Record. It is a unique number that is assigned to every booked train ticket on Indian Railways. PNR Status shows the current status of booked train ticket i.e. whether it is confirmed, waitlisted or RAC (Reservation Against Cancellation). It provides passenger's basic information like name, age & sex, date of the journey, train details and ticket booking status.
The database assigns this unique PNR number with every passenger details entered while booking ticket. Each PNR number includes maximum of six passengers only. PNR number lasts minimum of 9 months. This is because the TDR filed can take maximum of 9 months. Its is then removed from the database.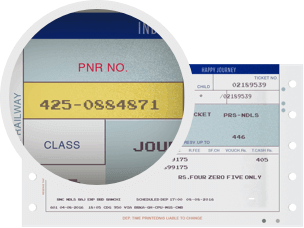 PNR Status Enquiry Via Mobile App
Download ixigo's Indian Railway Train PNR Status App, and get real time updates about your PNR Status Enquiry. Along with this, you also get access to your reservation booking status, platform number, coach position, and more.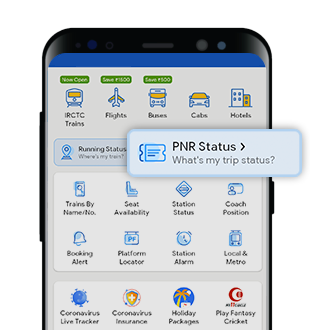 Check PNR Status Via SMS
Send a text to Indian Railways number 139 for PNR Enquiry. Just type the 10 digits (without hyphen) and send it to 139. You can also send the sms to 5676747. You would get the updated PNR information in your phone inbox.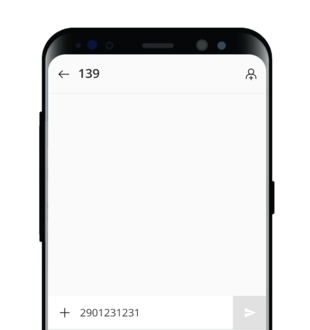 What does a PNR number explain?
PNR number holds various information related to the train journey.
Passenger Details - Name, Age, Sex, Birth Preference
Ticket Details - Train Number, Date of Journey, Origin/Source Station, Destination Station, Boarding Station, Class, Berth, Quota
Fare, Transaction Type and Payment Details
First 3 digits tell us from which Passenger Reservation System or PRS the ticket has been booked.
First digit depends on Zone of the Train, w.r.t. starting station of the train.
Zonal Codes - 1 (SCR Secunderabad PRS); 2, 3 (NR, NCR, NWR, NER New Delhi PRS); 4, 5 (SR, SWR, SCR Chennai PRS); 6, 7 (NFR, ECR, ER, ECoR, SER, SECR Calcutta PRS); 8, 9 (CR, WCR, WR Mumbai PRS)
Last seven digits are randomly generated numbers using the Rand() function. These numbers represent no information about the ticket or journey as such. They only provide an unique identity to the PNR number.
How to check PNR status?
The different ways you can check PNR status are:
Check current reservation status using SMS service. SMS PNR to 139.
Mobile applications
Railway enquiry counters at railway station
Final reservation charts
Railway Enquiry Number- Call 139
You can check train
PNR status on ConfirmTKT
, which was recently acquired by ixigo.
PNR Status Enquiry Quick Facts
| | |
| --- | --- |
| What is PNR in e-ticket? | Passenger Name Record |
| Length of PNR no. | 10 Digits (Only Numeric form) |
| Meaning of first 3 digits of your PNR | Passenger Reservation System, usually referred to as PRS, from which the ticket has been booked. |
| Meaning of last 7 digits of your PNR | The last seven digits are randomly generated by the system. |
| Validity period of a PNR number | A PNR number is valid for 9 months after which it is flushed. The same PNR number can be generated after a year. |
Indian Railways PNR FAQS
Q. How to Check PNR Status Online?
A:
Check PNR Status online on ixigo. Follow these steps:
Go to ixigo website.
Click on "PNR Status" button.
Enter your 10 digit PNR number and click on search.
You will get your booked train ticket current status along with passengers details.
Q. How to check PNR status on a phone?
A:
Check PNR Status by sending SMS on:
Type "PNR (10-digit PNR Number)" and send it to 139.
Type "PNR (10-digit PNR Number)" and send it to 5676747.
Q. Can you explain RLGN PNR Status?
A: Remote Location General Waiting List (RLGN) is issued when a user books a ticket where WL quota is RLWL. This means after booking ticket, RLWL gets named as RLGN.
Q. What is the benefit of a PNR Number?
A: You can order food to your seat by telling your PNR number. You can book rooms and dorms and get them at cheaper prices on railway stations.
Q. Is PNR number allotted for unreserved and reserved tickets?
A: PNR number is only allotted for reserved tickets.
Q. How to check the status of waiting list?
A: Enter your PNR number on ixigo's PNR status checker. After a few seconds, the status of your ticket will display on the screen.