You've already uploaded some photos. Do you want to delete these photos?
Proceed
How do I plan a trip to places around Shillong?
1

person

found this answer useful

Useful ?

Yes
Shillong's hotels cater to a wide variety of tourists and it's fairly easy to get a
good place to stay without paying through your nose for it. Ri Kynjai (Mob: +91-98620-56192, +91-98624-20300; Tariff: INR 6,500-11,000) is a rare luxury resort in the North-East — sumptuous wood, glass frontage, spa, jacuzzis and all — on the serene
Umiam Lake
.
The restaurant offers glorious spreads of North-Eastern food. Meghalaya Resort (Tel: +91-364-2570258; Tariff: INR 2,231-8,282) is situated on the banks of
Umiam Lake in Barapani. Here one can savour a sight that to many is reminiscent of a Scottish loch. The resort has a restaurant and a water sports complex.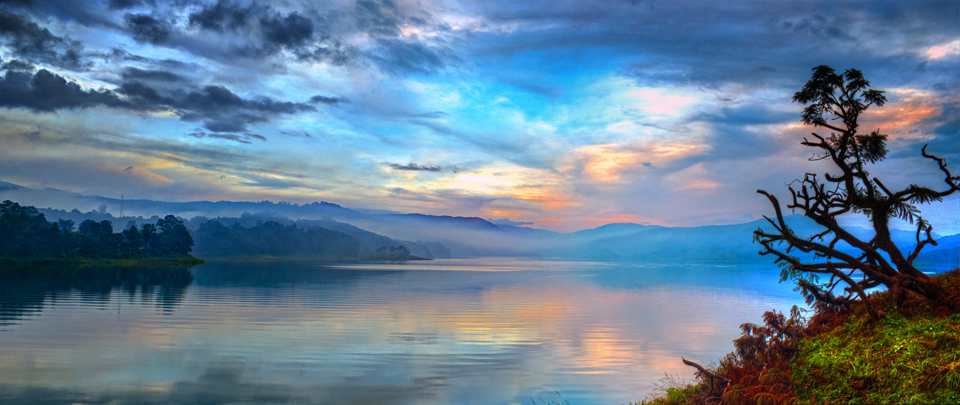 A photo of Umiam Lake (by Vikramjit Kakati)
Recommended for those who wish to get away from the hustle and bustle of a city.
Meghalaya Tourism's Hotel Pinewood (Tel: +91-364-2223116; Tariff: INR 2,800-9,000), one of Shillong's two heritage hotels, was built in the 1920s on the pattern of an English country home. It includes several small cottages.
It's barely a few minutes' walk from Wards Lake. The
Royal Heritage
(Tel:
+91-364-2501149; Tariff: INR 4,000-7,000), private residence of the Tripura royal family, is now a hotel. The veteran Hotel Polo Towers (Tel: +91-364-2222341; Tariff: INR 3,195- 8,550), situated near the Polo Grounds, has a popular coffee shop and bar.
White Orchid (Mob: +91-92063-15791; Tariff: Rs 900-1,750) is a good budget
option on Lachumiere Hill. Hotel Alpine Continental (Tel: +91-364-2220991; Tariff: INR 2,590-4,590) is near Police Bazaar. The Shillong Club (Tel: +91-364-2225497; Tariff: INR 1,550-3,200) takes in guests on prior notice. It offers a bar, restaurant and various indoor sports.
A photo of typical momos found in Shillong (by Ritesh Man Tamrakar)
Shillong at one time had a significant Chinese population, known for their excellent handmade shoes and restaurants. Shillong's Hong Kong, Elgin and Bamboo Hut Chinese restaurants are especially good. And almost every restaurant in Shillong will offer a wide choice of piping hot momos. For the more adventurous, the jadoh stalls, the ubiquitous little shops selling a rice-and-pork preparation, will be an interesting experience. Jadoh is the staple food of the region and you can buy a plate for as little as INR 10.
Other popular restaurants in the city are Kimpoo and Kowloon, which serve
Chinese, and Broadway, which serves multicuisine fare. Swiss Café, a fastfood
outlet, is popular with the college crowd, as is Bombay Bites. For local Khasi specialities, try the dhabas in Bara Bazaar. If you're very particular about it, order in advance at the Royal Heritage in Tripura Castle, which also serves Khasi food.
More than
Shillong
, it's the suburbs which have retained the original beauty
of this area and you might find yourself enjoying the outskirts of the city more
than the city itself.
Smit (15 km)
About 5 km off Jowai Road, on NH44, lies Smit, the palace of Hima Khyrim (the palace of the erstwhile Raja of Khyrim). It is here that the famous Nongkrem dance — so often depicted in tourism brochures as a Khasi dance — is held, usually every November, when Smit takes on a festive air.
A photo of Shillong-Jowai Road (by RMehra)
The place is worth a visit even if one misses the event. The dance is held in the
courtyard of a house called Ka Ing Saad, belonging to the high priestess of Khyrim. It is one of the few examples of a traditional Khasi house still standing
and is in an excellent state of repair.
Cherrapunjee (54 km)
The district headquarters for the British from 1835 until 1864, no visit to Shillong can be complete without a trip to
Cherrapunjee
, known to every school child for receiving the highest rainfall in the world — a title now taken over by the nearby Mawsynram, though. What is generally referred to as Cherrapunjee — or, to give it its correct Khasi name, Sohra — in fact includes several villages and hamlets within a small radius.
A photo of Cherrapunjee (by Ppyoonus)
The old Khasi village stands on the top of the hill, overlooking a deep gorge and its silvery waterfalls. A few kilometres down the road, at Saitsohpan, is a Christian Mission, which was established in the 1840s. Here, first the Baptist and then the
Welsh missionaries began building churches and schools and giving the Khasi language its Roman script. Their small, stone masonry houses are examples of early colonial architecture, the type that disappeared from Shillong after the great earthquake of 1897.
Next to the mission was the first British settlement and the headquarters of the
Khasi and Jaintia hill districts for 30 years. The present Circuit House has
retained the style and structure of the sanitarium built in 1829-30. David Scott, Assam's erstwhile Commissioner, lies buried on a hill next to the mission but there is a monument to him near the
Circuit House
.
A more curious affair is the grave of Henry Inglis (1832-60), located at Kut Madan, a little distance from Scott's monument. An assistant political agent for some time and also working with Inglis and Company, Henry Inglis died in England; but his
body, exhumed 10 years after his death, was brought back to Cherrapunjee and
interred in a rectangular stone structure clear above the ground by his son
Lionel Inglis.
This enabled the latter to continue working the profitable limestone quarries here, for the agreement with the Khasis had stipulated that the lease would remain in effect as long as Henry Inglis did not "go below the soil". Lionel Inglis became one of those early settlers in Shillong who obtained extensive plots (including Crowborough) at throwaway prices.
A photo of Mawphlang Village (by Arshiya Urveeja Bose)
About 2 km south of the Circuit House is Mawsmai Village, on the edge of a deep gorge. There is a wonderful view of Nohsngithiang from here, the nearly 1,000-foot-high falls crashing down with enormous force. There are many other falls
located not very far away, the most spectacular of these being Nohkalikai.
There are some lovely limestone caves nearby, too. For the overnight visitor,
there is the well-maintained Cherrapunjee Holiday Resort (Tel: +91-3637-
244218-20; Tariff: INR 600-2,000), which also serves local delicacies among other
places to stay
here.
Thadlaskein Lake (56 km)
You will again take NH44, driving through some absolutely stunning landscape. The traditional story is that the rectangular
Thadlaskein Lake
was dug with the help of arrowheads, but the reality is that it is fed by perennial underground springs. If you start early, you can even cover Nartiang, the seat of an ancient kingdom, and see a cluster of megaliths there — the Stonehenge of the Jaintia Hills — the tallest standing at over 27 ft.
Dawki (80 km)
A visit to Dawki, the terminus of NH40 on the Bangladesh border, can be thrown in, but this will take one full day. At a place called Umtyngar, on the Shillong-Cherrapunjee Road, the highway branches off towards Dawki. The road was built in the 1920s and its numerous hairpin bends and 1,000- foot-deep gorges, sometimes on both sides of the road, can make the drive awesome. The journey, they say, is as important as getting there.
A photo of Dawki River (by Tharaq Andrews)
Look out for a particularly precipitous rock feature called Devil's Elbow along the way. Close to the Dawki Customs post is the Dawki River, over which is a beautiful suspension bridge made when the road was first constructed. Dawki is also a border market and among the local produce are its famed oranges. Also take a look at other
places to visit
in Shillong as they are all mesmerise equally.
MORE QUESTIONS ABOUT
Shillong
most popular
|
most recent
|
most relevant
|
unanswered questions
Help us rate places you know

Food & Places To Visit