You've already uploaded some photos. Do you want to delete these photos?
Proceed
Pritha Manchanda
Aug 01 2014
Which are the best travel hacks for business travel?
1

person

found this answer useful

Useful ?

Yes
Here are some cool travel hacks for business travel.

Smart travel hacks for business travel will make your journey stress-free (photo by Voxphoto)

1. Roll your clothes instead of folding them

If you are a frequent business traveller then you know that its always best to travel light. No check-in baggage means zero time spent at the baggage carousel. Here are a few tips for packing light. If you roll your clothes instead of laying them out folded and flat, you will need comparatively less space.

This is ideal for items like trousers, jeans, chinos and cargos. What's more, rolling your clothes tightly before packing them ensures that they stay wrinkle-free.

2. Wrap crisply ironed shirts, blouses and tops in layers of newspaper

Wrapping shirts and blouses in layers of newspaper serves two purposes. First, it helps to keep the clothes wrinkle free. Second, it helps to compartmentalize your clothes. This makes looking for clothes or unpacking your bag/suitcase very easy. You can also separate different layers of clothes by stacking your files/folders between them.



Crisply ironed shirts should be wrapped in newspapers (photo by Claude Truong-Ngoc)

3. Keep scanned copies of your visa, PNR, passport and your most frequently used ID card on your phone

This tip is particularly important if you are travelling out of the country. Keeping scanned copies of your most important documents handy is imperative for air travel. You will be saved the burden of constantly having to rummage through your luggage for the hard copies of these documents. Check the pnr app for regular updates.

This is especially handy for when you need to keep tabs on your flight status, or fill up your details in immigration forms, etc. Besides, its always a good idea to have a backup of all travel documents--the back-ups come in very handy if you inadvertently misplace the originals or they are stolen.

4. Carry small bottles/packs of toiletries and stash them in see-through self-locking plastic bags

Carry small packs of toiletries like toothpaste, shampoo, conditioner, chapstick, ointments, moisturizer, etc. If you run out, you can always stock up at a convenience store in the city you are visiting. Big packs tend to take up a lot of space.

Packing these items in a see-through, seal-sealing plastic bag helps in ensuring that any spills remain limited to the plastic bag and don't affect the rest of your items. Second, they make it easy for you to separate your toiletries from the rest of your luggage making it one of the best travel hacks for business travel.

Finally, as airport security has become increasingly stringent, it helps security see right away what is in your toilet kit. It is a good idea to pack all your medication in see through self-sealing plastic bags for the same reasons.



For women: Choose small packs of toiletries and other essential items (photo by charliebarker)



For men: Pack toiletries in a separate kit (photo by Dan Nevill)

5. Always compare flight fares across multiple travel sites

Always compare flight fares across multiple platforms to get the best deals. There are several travel websites where you can check and compare flight fares before you make a final booking. This is the best way of ensuring you get the best flight fares. Also, it is often a good idea to book a flight and hotel package. Hotels search should help with the same. You can often get heavy discounts on such deals. This is definitely a travel hack for business travel that is good to keep in mind.

6. Carry USB chargers and a multi-plug adapter

If you are on a business trip, you cannot afford not to have your phone, laptop or other devices not charged at all times. It is, therefore, important that you carry chargers. But chargers and adapters tend to take up a lot of space. It is a good idea to invest in a single multi-plug adapter that works in all countries. Adapters with USB chargers, which are compatible with all kinds of plugs and sockets are extremely handy.



Packing essentials at a glance (photo by Kiruba Shankar)

7. Check in online 24 hours in advance

Checking in online, even a few hours in advance, gives you the opportunity to choose between the aisle, middle and the window seat. This is especially important if you are claustrophobic or asthmatic or have vertigo and know that a specific seat works better for you than any other.

8. Pre-book a special meal

More often than not, a special meal is delivered faster than regular meals onboard. At mealtime, airlines staff sort and distribute the special meals before starting the regular meal service. If you are not particularly fussy about what you eat but want your meal quickly, then pre-order a special meal on your next flight.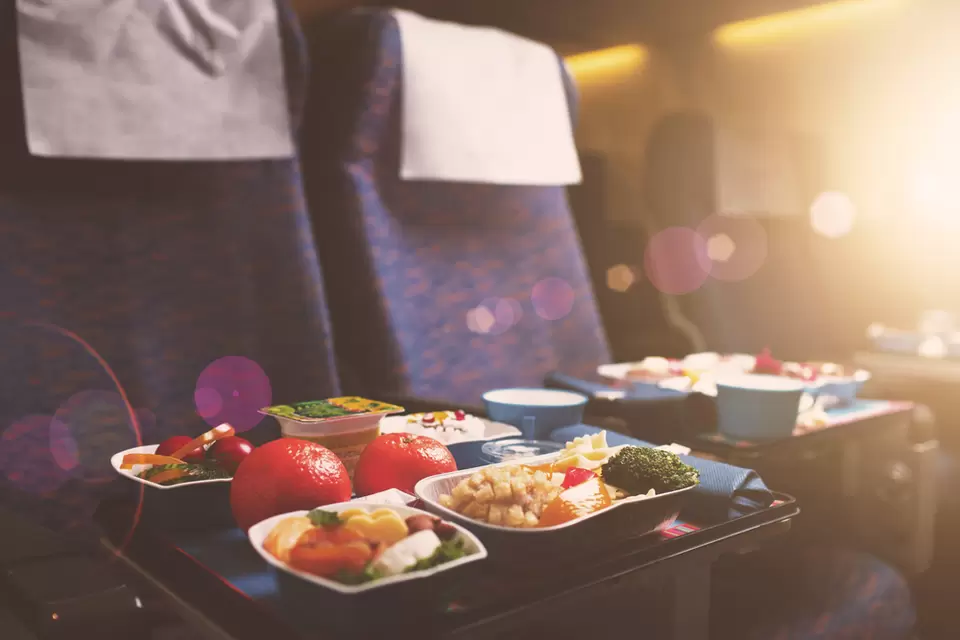 9. Hotel and flight loyalty programmes

Take advantage of frequent flier programmes offered by airlines. The best part about these programmes is that they come with add-ons of discounts and special offers with select hotel groups and even credit cards. With some flight loyalty programmes, you earn flying miles when you check into select hotels or dine at select restaurants. Check the hotels app if you're interested in knowing more about a specific hotel.

10. Pack tennis balls

Yes, as strange as this may seem, packing a couple of tennis balls in your luggage is a great idea. When you are tired after a hard day at work or after a particularly long flight, place the tennis balls under your feet and roll them gently. It acts as an excellent massager and relieves cramped muscles.



Tennis balls can be used as foot massagers (photo by Christian " VisualBeo "Horvat)

Keep these travel hacks for business travel in mind when you are travelling next.
Help us rate places you know

Food & Places To Visit