You've already uploaded some photos. Do you want to delete these photos?
Proceed
Kasturi Saikia
Jun 19 2013
Which are the most famous haunted places in Mumbai?
Kritika Maurya
Jun 19 2013
6

people

found this answer useful

Useful ?

Yes
Here is a list of some of the famous haunted places in Mumbai. The city of dreams, it is the city where our beloved Bollywood industry flourishes. Amid the daily humdrum of the city, there exists a clandestine world of the unknown that remain hidden from the bustling populace. Mumbai is home to some of the most famous haunted places in the country. Let us take a look into those place in Mumbai that gives goose bumps at the mere mentioning of them.

Grand Paradi Towers


At Kemp's corner, which is one of the most elite and posh colonies of Mumbai, the Grand Paradi Towers stands tall boasting of one of the largest and oldest residential apartments in the city. However, there is this one flat on the eighth floor of the tower that has remained unsold for years. The reason behind this is rather unusual and could be skeptic. They say that for some hush-hush reasons, the building has registered some 20 ambiguous cases of suicide and fatal accidents since it was built in 1979. Moreover, the cases have mostly happened in this particular flat on the eighth floor of the building.

Mukesh Mill



Mukesh Mill, situated in the Colaba area of the Mumbai is apparently one of the most famously spooky place in the city. It is an enormous abandoned mill, that has been shut down in the year 1980. For years this rundown and deserted place in the city has acted as a ready-made set for horror films and gothic shows. Considering that the place is actually haunted, it has grown abuzz among the film directors to come here and shoot for such spooky shows. However after sundown even the bravest of them all would not want to work here. Recently even a television actress claimed to have heard a fellow actress talking in a manly voice, like she were possessed, telling the crew to leave the set immediately.

Aarey Milk Colony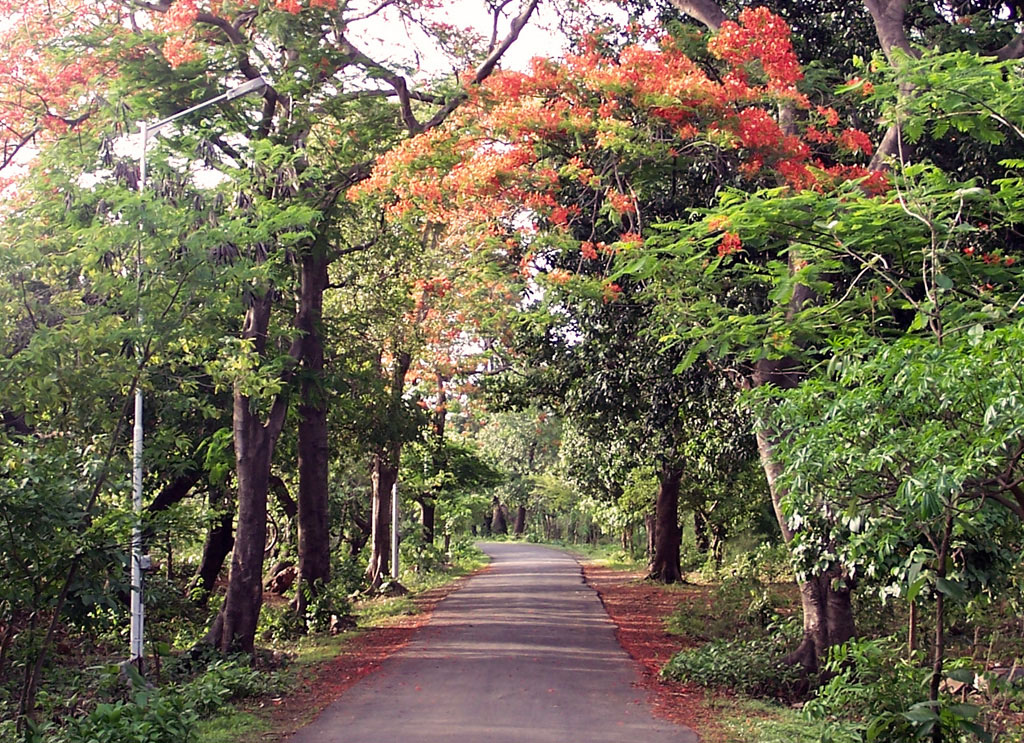 Aarey Milk colony, located in the Goregaon East of Mumbai was initially set up for the Aarey Dairy employees in the year 1949. Today it is perhaps one of the last open stretch of vast green field in the city that is often frequented by picnickers. Also, members of film and the advertising industry use this location to shoot for films.

Another reason for its fame is the visit from various apparitions that take place in this area. People refuse to stay here after dark due to unusual ghostly experiences that one can feel here.

Tower of Silence



Perched on the Malabar Hills in South Mumbai, Tower of Silence is a Parsi cemetery, ominous just by the sound of it. According to Parsi customs they leave the bodies of their dead for scavengers to feed on. They consider that to be their last act of generosity towards the world.
However pure the thought behind the act maybe the images that come to your mind are rather horrifying. Besides that the winding road that leads down to the hill, while you visit Tower of Silence, is exceptionally eerie and desolate after dark, which is why it is considered as some kind of ghoulish hangout.
These five spots are infact the most famous haunted places in Mumbai that give rise to freaky, supernatural, and downright terrifying phenomena. So, the next time you visit Mumbai you can opt to explore the 'other side'.
2

people

found this answer useful

Useful ?

Yes
To add to the virtual jitters, there are two other famed spots in Mumbai which have given Mumbaikars an equally spine-chilling time, literally and experientially. The important thing to realise that as fun and as much of a wondrous experience as it all sounds at the moment, it is still in another plane and place of experience which cannot be tackled in the human plane of action.

Two other such places with odd out-of-place haunted vibes are:

Taj Mahal Hotel: Apparently and as a matter of experience by quite a few members of the staff and visitors in the past and the present, the hotel is supposed to be haunted by its creator and architect, W. A. Chambers and the deadly terrorist attacks of 26/11 is said to only have added to a spooky gruesome vibe and a feeling of strong uneasiness once in the premises which have bewildered people reporting such incidents as completely strange for an otherwise very high end luxury hotel.

Asiatic Library: So the library is huge, and by that it does mean gigantic and very dated. Not only is it possible for anyone sincerely seeking reading material in one of these alleys to completely lose their way even while walking from one end of a known alley to the other, it is even said that sometimes people don't find their way for a whole day at a stretch walking the same route time and again. It sounds funny but what gets absurd is when people are reported to have vanished from any of the alleys for days in a row. It is advisable to not try looking around deserted alleyways too much even during the day as getting lost for the whole day will also mean that you can't find your way till late evening or night sometimes and are stranded indoors!

Rumoured to house the ghosts of some eminent Britishers, you might even get into a colonial rut which you cannot absolve, because well, the issue is not on a human plane anymore.

Be spooked, but beware!

Akshay Shirke
Nov 29 2013
1

person

found this answer useful

Useful ?

Yes
i whan to experines this place and give bme more information..

MORE QUESTIONS ABOUT
Mumbai
most popular
|
most recent
|
most relevant
|
unanswered questions
Help us rate places you know

Food & Places To Visit